Mr. B Natural
Please choose a format above.
Hey kids! What's the best way for a middle schooler to impress chicks, make friends, and just dominate the social scene in general? OK, I'm hearing 'Be really funny,' not the answer I was looking for. 'Kick butt at sports,' not that either. I'll give you a hint: "Ban…?". No, it's not 'Banter in the halls wittily!' It's band! Marching band! Join the marching band to win the acceptance of your peers who are also wallowing away in the grim social purgatory of marching band!
Anyways, this is the plan that our hero Buzz comes up with. To his credit, he mainly came up with it after "Mr." B Natural appeared in his bedroom and started jumping around on the bed and mimicking playing various instruments. Buzz did the right thing: just do what the crazy lady MAN! What the crazy MAN says in that situation and try to phone the authorities when she HE! When HE stops for gas on the inevitable cross country killing spree he's trying to rope you into.
This classic music educational film, first seen on MST3K and riffed in its entirety for the first time ever as part of our Kickstarter rewards, is a chance to see an all new take on the beloved Mr. B!
Digital Video file formats
DVD Quality Video (1.02 GB)
mp4 for mobile devices (207.21 MB)
mp4 for Tablets and TVs (278.69 MB)
All digital products you purchase from RiffTrax.com are DRM-free, can be played across a large variety of devices, and are yours to keep ... forever! Even if you have a hard drive meltdown, you can always log back into the site and re-download all of your previous purchases.
For our Download and Stream products, you can stream the product to your computer or to your TV via Chromecast, or download to a device that can play the MP4 file format. For more information on our video formats, please see this KB article.
Just the Jokes are simply MP3 files which are DRM free and can be enjoyed on any device that can play this common audio format.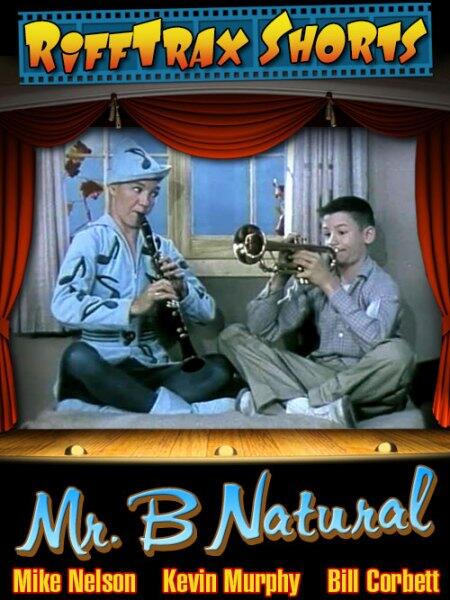 Riffed By