Monkey See, Monkey Do: Verbs
Please choose a format above.
In working on Monkey See, Monkey Do: Verbs, we came across a rare find: a behind-the-scenes audio recording from the making of the film! Before submitting the material to a museum, where it belongs, we've transcribed the conversation: Producer Norman Bean and Director of Photography, Carl, working at the height of their craft. Enjoy!
Norman Bean: Carl, I'd like to talk to you about the footage you shot for our new educational short on verbs. I asked you to film, let's see...a playground, a beach, a softball game, and the Fourth of July parade.
Carl: Ah, yep. I didn't do any of that.
Norman Bean: I see that, Carl. It seems you just went to the zoo and filmed some monkeys.
Carl: Yep, sure did. They got some pretty good monkeys, down there at the zoo.
Norman Bean: In fact you only filmed them for about three minutes, and then looped that footage three times.
Carl: Did I? Heh, heh. Well, I was pretty stoned.
Norman Bean: This doesn't teach anything. In fact it might make children dumber.
Carl: Norm, I got an 8-year old. He spent an hour yesterday playing with some tin foil he found in the bottom of his backpack. Kids are morons. They'll watch anything. Let's slap a crappy song on it and head to the strip club. 'Strip' - now there's a verb!
Norman Bean: Good Lord, I...okay. Okay, fine. This is not our proudest day.
Carl: Look at them monkeys scratch!
After serious consideration of the material, Mike, Kevin, and Bill implore you to - HOLY COW TAKE A LOOK AT THESE MONKEYS! THEY ARE FREAKING HILARIOUS!
Digital Video file formats
High Quality (MPEG-2) (287.24 MB)
Commentary (mp3) (6.81 MB)
Source audio (mp3) (8.72 MB)
All digital products you purchase from RiffTrax.com are DRM-free, can be played across a large variety of devices, and are yours to keep ... forever! Even if you have a hard drive meltdown, you can always log back into the site and re-download all of your previous purchases.
For our Download and Stream products, you can stream the product to your computer or to your TV via Chromecast, or download to a device that can play the MP4 file format. For more information on our video formats, please see this KB article.
Just the Jokes are simply MP3 files which are DRM free and can be enjoyed on any device that can play this common audio format.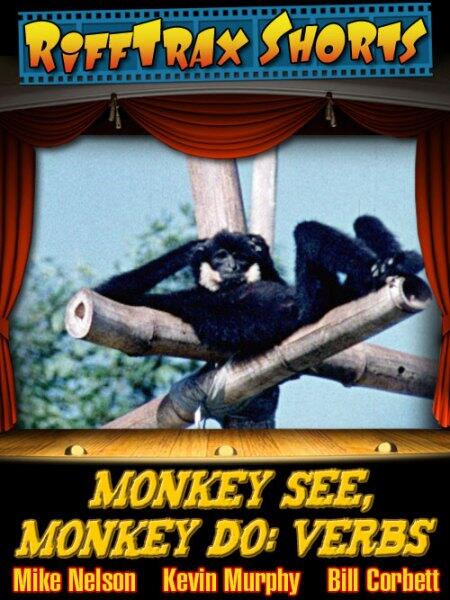 Riffed By