Molly Grows Up
Please choose a format above.
There are some conversational topics that most men will avoid at all costs. Guessing a woman's age, Barbra Streisand's Yentl, and the appeal of Justin Bieber rank high among them. But there is one subject that rises above even these, one issue guaranteed to turn even the proudest male into a red-faced, mumbling fool. And that particular health concern is...well, you know. With the discomfort, and the products...come on, don't make me. Lunar cycles, and that thing you hear about girls living in the same dorm--oh YOU KNOW WHAT I'M TALKING ABOUT!! Go to your room.
Molly Grows Up is the story of a girl asking the tough questions. Like most children, she can't wait to become an adult, despite all evidence that it's really not all it's cracked up to be. When will it be her turn? When will she finally get to be encumbered by a cruel monthly beast hell-bent on her misery and embarrassment? There are plenty of women in her life ready to provide ambiguous information that hardly qualifies as "advice". There's the school nurse, who is far too interested in Molly and probably smells like cats. Then, Molly's mother, who seems to be sedated with those "nerve pills" they used to give unsatisfied housewives. And of course, Molly's sister, the middle-aged teen. Will Molly learn the horrible truth? Will her father successfully avoid the conversation altogether?
Join Mike, Kevin and Bill as they try desperately to be excused from Health Class before the showing of Molly Grows Up. 
Digital Video file formats
High Quality (MPEG-2) (356.64 MB)
Commentary (mp3) (7.73 MB)
Source audio (mp3) (7.5 MB)
All digital products you purchase from RiffTrax.com are DRM-free, can be played across a large variety of devices, and are yours to keep ... forever! Even if you have a hard drive meltdown, you can always log back into the site and re-download all of your previous purchases.
For our Download and Stream products, you can stream the product to your computer or to your TV via Chromecast, or download to a device that can play the MP4 file format. For more information on our video formats, please see this KB article.
Just the Jokes are simply MP3 files which are DRM free and can be enjoyed on any device that can play this common audio format.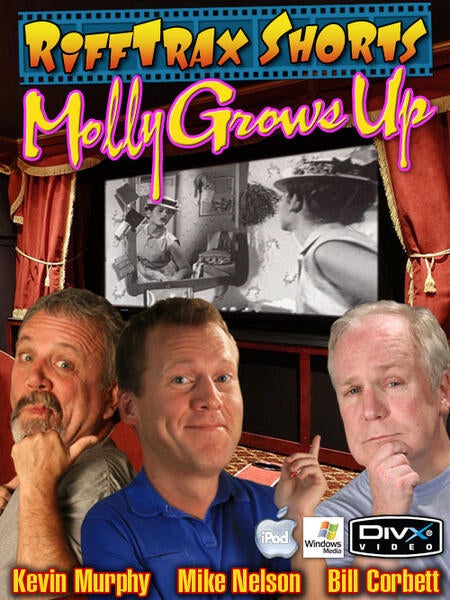 Riffed By