Mealtime Manners & Health
Please choose a format above.
You may think you know your Mealtime Manners, but much like the recent Kevorkian biopic that, despite starring Al Pacino, was sadly neither unintentionally hilarious nor full of rapid fluctuations in vocal volume, You Don't Know Jack!
Mealtime Manners & Health posits the radical notion that your observing proper manners while eating can have a positive effect on your health.  Wait, that's not really so radical...Oh, that's right, the radicalnotion it puts forth is not that good Mealtime Manners can make you happier and healthier, but rather that Mealtime Manners can occur at any given part of the day.  Playing a little league game?  Better have good Mealtime Manners!  Parked outside a tardy coworker's house, waiting for them to join the carpool Don't forget your Mealtime Manners!  Just finished dinner and won't be eating another meal for roughly twelve hours?  Mealtime manners, dammit!!!
Yes, Mealtime Manners apply to virtually any social context. This may sound like a clumsy, even baffling point to you.  We concede that this is most definitely the case.  When they're on, the good people at Coronet Films could make a short that most people would generously describe as "dull yet coherent."  When struggling to spend the last two hundred dollars of their state derived funds before a fiscal quarter deadline however, madness tended to be the prevailing theme.  This short is joyously one of the latter.
Mike, Kevin and Bill enjoy practicing Mealtime Manners in any number of situations, "while riffing a short" being right near the top of their list.
Digital Video file formats
High Quality (MPEG-2) (322.33 MB)
Commentary (mp3) (7.37 MB)
Source audio (mp3) (9.51 MB)
All digital products you purchase from RiffTrax.com are DRM-free, can be played across a large variety of devices, and are yours to keep ... forever! Even if you have a hard drive meltdown, you can always log back into the site and re-download all of your previous purchases.
For our Download and Stream products, you can stream the product to your computer or to your TV via Chromecast, or download to a device that can play the MP4 file format. For more information on our video formats, please see this KB article.
Just the Jokes are simply MP3 files which are DRM free and can be enjoyed on any device that can play this common audio format.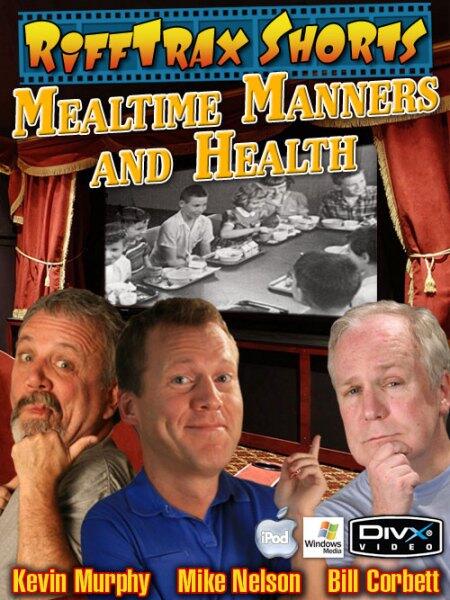 Riffed By