Let's Give Kitty a Bath
Something you should know:
This short was originally FREE to our 2020 Kickstarter backers at the "Shorts 2-Pack" level and above.
Please choose a format above.
Cats. They're famous for many things: mouse hunting, napping in sunshine, serving attitude, and, of course, cleaning themselves. They spend roughly 80% of every day licking their own fur in this endless quest for hygiene. Does that matter to the two kids psychotically obsessed with giving kitty a bath in Let's Give Kitty a Bath? As you may have guessed by now, it does not!
It's a live-action Looney Tune as this young boy and girl chase a cat around the house for bathing. It's not  even clear that the cat belongs to them, or that this is their house. There is a criminal air about these children, and the lengths to which they'll go to bathe this undirty cat will astonish you.
Let the ransacking commence. Order some cat-catching products from Acme and join Mike, Kevin, and Bill for Let's Give Kitty a Bath!
Written by: Mike Nelson, Conor Lastowka, and Sean Thomason
Digital HD Video file formats
Legacy devices (43.59 MB)
All digital products you purchase from RiffTrax.com are DRM-free, can be played across a large variety of devices, and are yours to keep ... forever! Even if you have a hard drive meltdown, you can always log back into the site and re-download all of your previous purchases.
For our Download and Stream products, you can stream the product to your computer or to your TV via Chromecast, or download to a device that can play the MP4 file format. For more information on our video formats, please see this KB article.
Just the Jokes are simply MP3 files which are DRM free and can be enjoyed on any device that can play this common audio format.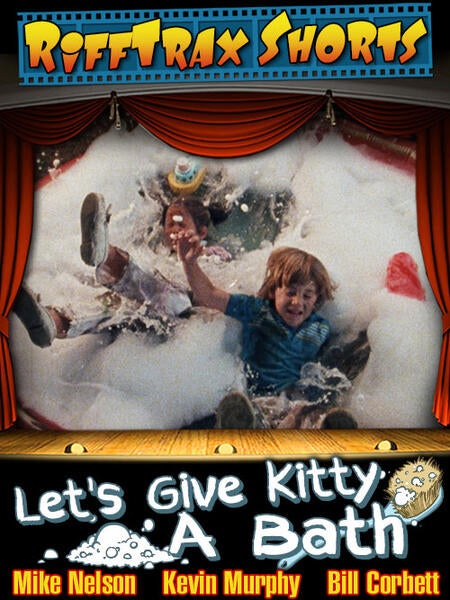 Riffed By