Holiday From Rules
Please choose a format above.
Holiday from Rules follows four children who exist in abstract space, an empty void, a community theater set without any actual setpieces. These cranky, whiny kids are mad that rules exist, and they make one of the classic RiffTrax short blunders: they wish to live in a world without rules. You fools! You should never make a wish like that!  Did you learn nothing from the teachings of Coily??
As you might expect, the omnipotent narrator takes the kids up on their wish and transports them to an island where they can try to live rule-free. So basically it's Lord of the Flies with a lower production budget and not quite as many homicides.
It's fun to think about a world without rules… just imagine, you could eat all the old ham you wanted without any fussy "expiration dates" holding you back. Join Mike, Kevin and Bill as they study the pros and cons of life in this new utopia, this Holiday from Rules!
Written by Mike Nelson, Bill Corbett, Kevin Murphy, Bridget Nelson, Mary Jo Pehl, Cole Stratton, Janet Varney, Conor Lastowka, and Sean Thomason
Digital Video file formats
High (TV) 480p (209.72 MB)
All digital products you purchase from RiffTrax.com are DRM-free, can be played across a large variety of devices, and are yours to keep ... forever! Even if you have a hard drive meltdown, you can always log back into the site and re-download all of your previous purchases.
For our Download and Stream products, you can stream the product to your computer or to your TV via Chromecast, or download to a device that can play the MP4 file format. For more information on our video formats, please see this KB article.
Just the Jokes are simply MP3 files which are DRM free and can be enjoyed on any device that can play this common audio format.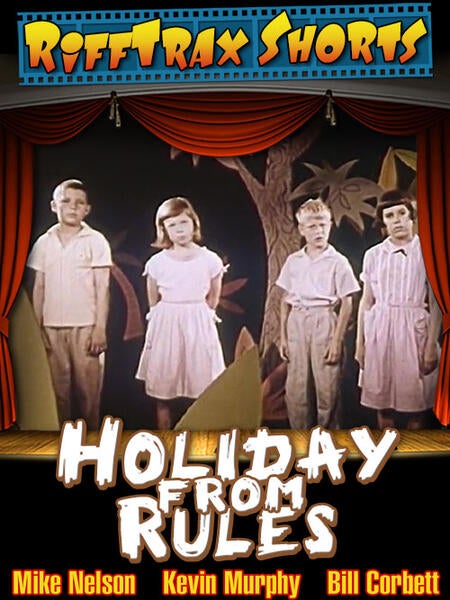 Riffed By