Gumby: Baker's Tour & Gumby's Concerto
Please choose a format above.
Gumby, everyone's favorite malleable substance / god-king, is back in our first RiffTrax Gumby Double Feature. 
First, Gumby is lured into an oven by a sentient ball of dough. Looks like Gumby fans aren't the only ones getting baked! But seriously, Pokey dies and Gumby learns a very valuable lesson about croissants or something.
Next, Gumby joins the pantheon of great classical musicians, like John Williams and The Guy That Did The String Arrangements on Wu-Tang's "Reunited". A pair of musical notes teach him the many wonders of the symphony, which sadly, does not lead to Pokey dying again.
Will you learn anything? No. Will you wonder what the clay Gumby is made of tastes like? Almost certainly. Join Mike, Kevin, and Bill for another trip into the Gumbyverse!
Digital Video file formats
Legacy devices (45.25 MB)
High (TV) 480p (200.63 MB)
All digital products you purchase from RiffTrax.com are DRM-free, can be played across a large variety of devices, and are yours to keep ... forever! Even if you have a hard drive meltdown, you can always log back into the site and re-download all of your previous purchases.
For our Download and Stream products, you can stream the product to your computer or to your TV via Chromecast, or download to a device that can play the MP4 file format. For more information on our video formats, please see this KB article.
Just the Jokes are simply MP3 files which are DRM free and can be enjoyed on any device that can play this common audio format.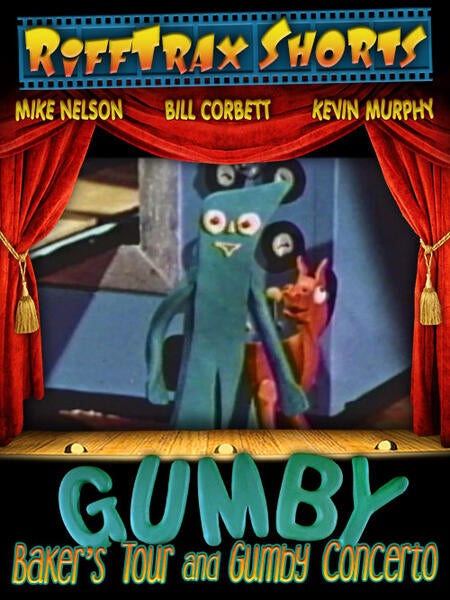 Riffed By