Good Health Practices
Please choose a format above.
Washing your hands after using the restroom - most of us only do so because a fellow co-worker is in the bathroom with us, and we wonder if he'll tell other people if we don't. But evidently, we should be doing this even when a co-worker isn't there. It's a "Good Health Practice." Another example is eating fruits and vegetables instead of gorging on sweets.
This too, is usually the type of thing one starts doing only after noticing that your pile of empty Milk Dud boxes is drawing stares from your co-workers. But it's also a "Good Health Practice." Yes, for some reason, "Good Health Practices" was recently made mandatory viewing for all employees here at RiffTrax. The delightful tale of Jim and Judy learning how to lead healthy lives has really caused us to turn a corner. We have more energy, sleep better, and the Milk Dud boxes have been arranged into a whimsical structure resembling a tortoise.
Mike, Kevin and Bill are here to riff what may be the finest children's health film since "Three of The Bobbsey Twins Get the Plague."
Digital Video file formats
Legacy devices (41.94 MB)
All digital products you purchase from RiffTrax.com are DRM-free, can be played across a large variety of devices, and are yours to keep ... forever! Even if you have a hard drive meltdown, you can always log back into the site and re-download all of your previous purchases.
For our Download and Stream products, you can stream the product to your computer or to your TV via Chromecast, or download to a device that can play the MP4 file format. For more information on our video formats, please see this KB article.
Just the Jokes are simply MP3 files which are DRM free and can be enjoyed on any device that can play this common audio format.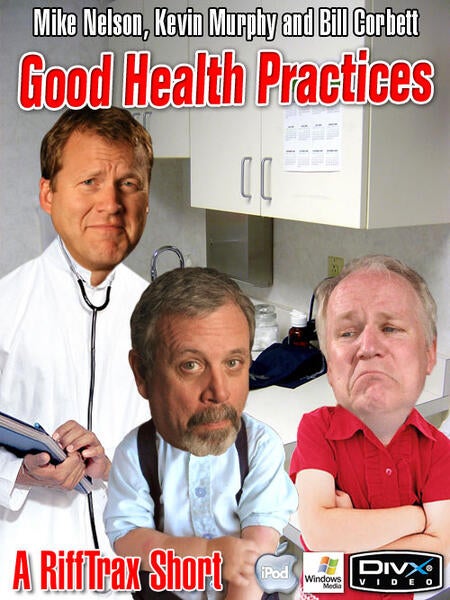 Riffed By