Dining Together
Please choose a format above.
It's being called "Literally the most anticipated sequel that is coming out in the last two months of 2015." Fans have bought their tickets months in advance, recreated the trailers in Lego, and scanned the original material for clues about what the plot to this one might contain. We of course refer to Dining Together, sequel to the somewhat obscure 2009 RiffTrax short Playing Together. What did you think we were talking about?
All your favorite characters are back: Duncan, Stickman*, and soul-crushing 50s greyness and blandness. It's Thanksgiving day, and guests that make Peppermint Patty look generous and gracious are starting to arrive. Fortunately, there's still time for the kids to learn valuable lessons about politeness such as "Keep the profanity to a minimum when Tony Romo ruins your three team tease in the first game of the day" and "Don't comment that it looks like a badger could carve the turkey better than father."
Order up a cornucopia of repressed fifties urges, set up your insanely large candlesticks (Seriously, those things could easily take out Professor Plum), and join Mike, Kevin, and Bill for Dining Together!
* Doctors advise not swimming for half an hour after encountering a deep cut this deep
Digital Video file formats
Legacy devices (43.93 MB)
All digital products you purchase from RiffTrax.com are DRM-free, can be played across a large variety of devices, and are yours to keep ... forever! Even if you have a hard drive meltdown, you can always log back into the site and re-download all of your previous purchases.
For our Download and Stream products, you can stream the product to your computer or to your TV via Chromecast, or download to a device that can play the MP4 file format. For more information on our video formats, please see this KB article.
Just the Jokes are simply MP3 files which are DRM free and can be enjoyed on any device that can play this common audio format.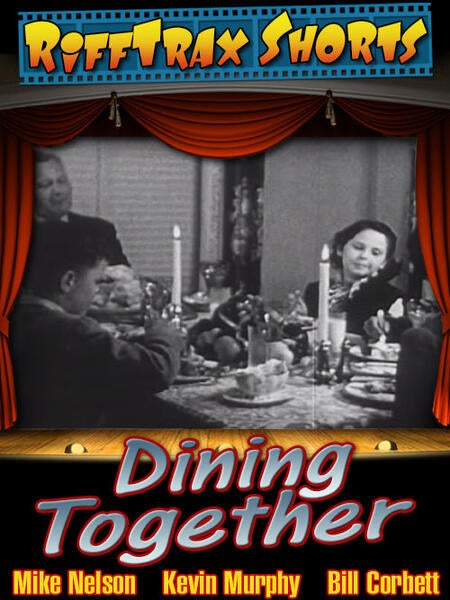 Riffed By