Day of the Animals
Please choose a format above.
Pollution has left the ozone layer severely depleted, and we all know what that means: eagles start commanding mountain lions to attack hapless campers! It's basic science, people!
Day of the Animals has a premise that will be familiar to anyone who's ever mispronounced the word 'solrpnls.' But it has one thing going for it that Birdemic does not: shirtless Leslie Nielsen. Frank Drebin himself descends into madness as members of his expedition are picked off one by one by vicious wolves, hungry bears, and ground squirrels that make a sort of annoying screeching sound. Eventually he removes his shirt and beats up a kid. We've all been there.
A film that saw the glut of 70s ensemble disaster movies and thought "I could do that for way cheaper!" Day of the Animals is guaranteed to delight both fans of animals and twenty four hour intervals of the earth's rotation. Pull up a chair alongside Mike, Kevin, Bill, and a bunch of spruce bark beetles in a trench coat!
Additional Contributors
Conor Lastowka - Senior Writer
Sean Thomason - Senior Writer
Contributing Writers: Molly Hodgdon, Justin Miller and Mike Schuster
 
Digital Video file formats
Burnable DVD Image (3.98 GB)
Digital HD Video file formats
Legacy devices (359.73 MB)
Burnable DVD Image (3.98 GB)
All digital products you purchase from RiffTrax.com are DRM-free, can be played across a large variety of devices, and are yours to keep ... forever! Even if you have a hard drive meltdown, you can always log back into the site and re-download all of your previous purchases.
For our Download and Stream products, you can stream the product to your computer or to your TV via Chromecast, or download to a device that can play the MP4 file format. For more information on our video formats, please see this KB article.
Just the Jokes are simply MP3 files which are DRM free and can be enjoyed on any device that can play this common audio format.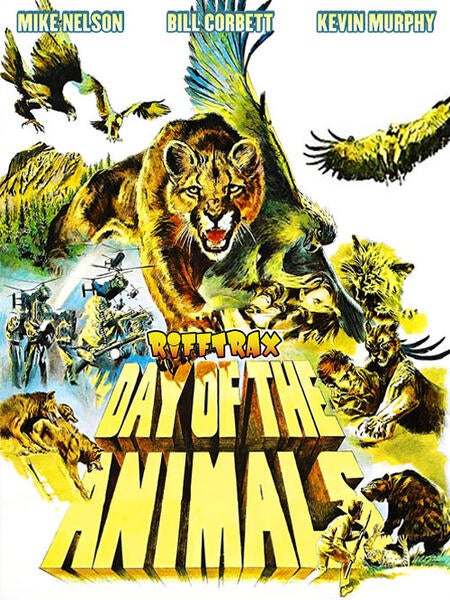 Riffed By