Call it Free Part 2
Please choose a format above.
Call It Free Part 2 continues the madcap service station antics that viewers of Call It Free Part 1 demanded More, More, More* of! All of your favorite characters are back. Herb (not a woman). Jerry (not a woman). Hank, (astute viewers will recall that Hank is a woman.) But the second half of Call It Free also introduces a new character: Captain Jinx.
Captain Jinx is, (and we are not trying to oversell him by any stretch of the imagination), the greatest cartoon character the world has ever seen! Morbidly obese, bright red and nude, he lives in the engine of your car, and has a big bag of rust that he spreads around if the engine if not properly maintained. This is how former Dodgers manager Tommy Lasorda spends the offseason. This spreading of "Rust", combined with the complete absence of any substance known as "Jinx", makes one wonder why his name is not simply Captain Rust. Seems like that would make a great deal of sense. But when you're dealing with a woman named "Hank", you sort of let the suspension of disbelief carry you where it will.
Captain Jinx is wreaking havoc on Hank's engine, and Hank's beloved husband speeds off to the mechanic to see what can be done about it. Will punches be thrown? Will Jinx junk Jerry's jalopy? And for all that is holy, what, who or when will be called free?! Find out these answers and more, when you join Mike, Kevin and Bill for the exciting conclusion to Call It Free!
*The shrugged shoulders and confused expressions of Call It Free Part 1 viewers has been interpreted as them "demanding More, More, More" 
Digital Video file formats
Legacy devices (42.55 MB)
Source audio (mp3) (17.77 MB)
Commentary (mp3) (7.29 MB)
All digital products you purchase from RiffTrax.com are DRM-free, can be played across a large variety of devices, and are yours to keep ... forever! Even if you have a hard drive meltdown, you can always log back into the site and re-download all of your previous purchases.
For our Download and Stream products, you can stream the product to your computer or to your TV via Chromecast, or download to a device that can play the MP4 file format. For more information on our video formats, please see this KB article.
Just the Jokes are simply MP3 files which are DRM free and can be enjoyed on any device that can play this common audio format.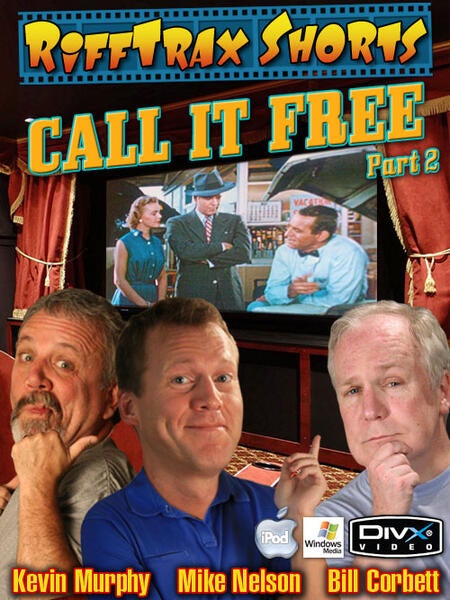 Riffed By