Call It Free Part 1
Please choose a format above.
For anyone who has ever dreamed of quitting their job and going to work as a mechanic at a 1950s service station, Call It Free is the next best thing! Many of us don't have the guts to strap on a grease-stained jumpsuit with our name embroidered on it, and even more of us get hung up on the difficulty of time-traveling back to the 50s, but that doesn't stop us from wistfully stealing a glance in our rearview mirror as we pull out of the gas station and thinking "Exactly what language was that clerk speaking?"
Fortunately, Call It Free brings all your grease monkey fantasies to life. A Dizzy Dame, whose husband affectionately nicknames her Hank (due to her resemblance to the legendary country musician, Waylon Jennings), has car trouble. How will the local gas station manager treat her? With respect and helpful advice? Or will he nickel and dime her for repairs she doesn't need on parts her car doesn't even have? If you have to ask these questions, it's quite obvious that you are a visitor from a foreign planet. You might have luck finding employment at a nearby gas station.
Mike, Kevin and Bill, though no strangers to the exciting world of automobile maintenance, still have trouble figuring out just what on earth the title Call It Free is supposed to mean.
Digital Video file formats
Legacy devices (49.47 MB)
Original Audio Track (244.07 MB)
RiffTrax Audio Track (141.09 MB)
All digital products you purchase from RiffTrax.com are DRM-free, can be played across a large variety of devices, and are yours to keep ... forever! Even if you have a hard drive meltdown, you can always log back into the site and re-download all of your previous purchases.
For our Download and Stream products, you can stream the product to your computer or to your TV via Chromecast, or download to a device that can play the MP4 file format. For more information on our video formats, please see this KB article.
Just the Jokes are simply MP3 files which are DRM free and can be enjoyed on any device that can play this common audio format.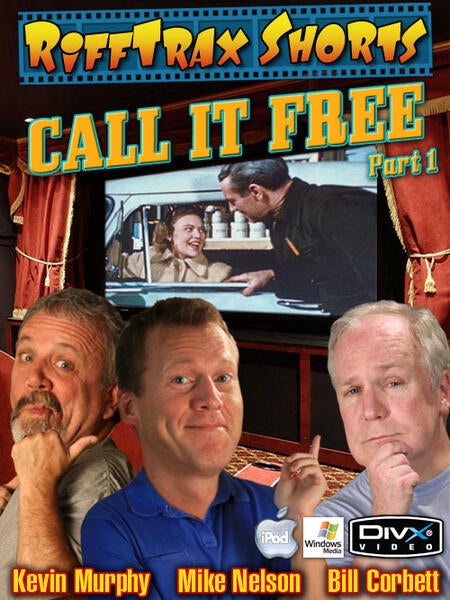 Riffed By