Building an Outline
Please choose a format above.
You probably think you know how to outline a high school essay. You'd probably even be arrogant enough to say that, once or twice in your life, you've "built" an outline. Well, Coronet Films is here to let you know you're wrong, dead wrong, you deranged fool. Outlining an essay is the hardest, most complex, and most IMPORTANT work you will ever do in your life. But Coronet will do its best to teach you how, with Building An Outline… that is, if you've got the guts.
Jim and Bill are two of the classic "middle-aged teenagers" type we're used to in Coronet shorts. They agree on most things: they wear the same white button-down shirt, sport the same haircut, rock the same sweater vest. One has brown hair and one is blonde, yes, but they've managed to be friends in spite of that. However they do disagree on something, something so big it could tear their whole world apart: THE IMPORTANCE OF OUTLINING AN ESSAY.
Reckless Bill thinks you can just march into an essay on a topic like "Benjamin Franklin" without planning a meticulous outline. Cautious, wise Jim, on the other hand, knows that you must not only plan out your outline, you must first build an outline for an essay on the subject of how important it is to build outlines (he actually does this).
Who will be proven right, in the end? Will their friendship survive the outline battle? Will either of their essays get deeper than "Ben Franklin flew a kite in a storm"? You'll have to join Mike, Kevin, and Bill for Building An Outline to find out! No outlining required!
Written By
Mike Nelson, Sean Thomason, Conor Lastowka
Contributing Writers: Molly Hodgdon, Jason Miller
Digital HD Video file formats
All digital products you purchase from RiffTrax.com are DRM-free, can be played across a large variety of devices, and are yours to keep ... forever! Even if you have a hard drive meltdown, you can always log back into the site and re-download all of your previous purchases.
For our Download and Stream products, you can stream the product to your computer or to your TV via Chromecast, or download to a device that can play the MP4 file format. For more information on our video formats, please see this KB article.
Just the Jokes are simply MP3 files which are DRM free and can be enjoyed on any device that can play this common audio format.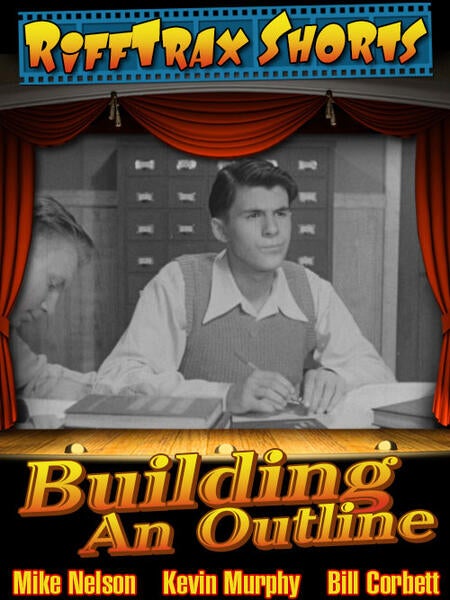 Riffed By