Behave, Bernard!
Please choose a format above.
If only Bernie Madoff had seen this film, things might've been different. Oh he still would've committed massive acts of investment fraud, Behave, Bernard! doesn't address that topic at all, but he could've at least learned not to tear up newspapers in the neighbor's yard or steal fast food hamburgers. Yes, the Bernard in question here is a pooch, a canine, and he's hell on four legs, baby. He's reckless and wild. And his young owner Glenn, being named Glenn, is no match for the situation. But that's not even the worst of it…
...Oh you want to know the worst of it? Hm yeah guess that ominous ellipsis did sort of indicate that was coming, reasonable assumption. Okay, well the worst of it is...Bernard SINGS. And despite what you might expect from a clumsy troublemaking dog named Bernard, the singing is NOT VERY GOOD. He sings and stumbles his way through life, leaving a wake of bloodshed and tears behind him, and he feels no remorse! Bernard is unstoppable! Behave, Bernard!? Ha! You might as well ask a sandstorm to behave! Welcome to the century of Bernard, he's running the show now!
Hurry, while Bernard still allows it, and join Mike, Kevin and Bill for Behave, Bernard!
Digital HD Video file formats
Legacy devices (44.38 MB)
All digital products you purchase from RiffTrax.com are DRM-free, can be played across a large variety of devices, and are yours to keep ... forever! Even if you have a hard drive meltdown, you can always log back into the site and re-download all of your previous purchases.
For our Download and Stream products, you can stream the product to your computer or to your TV via Chromecast, or download to a device that can play the MP4 file format. For more information on our video formats, please see this KB article.
Just the Jokes are simply MP3 files which are DRM free and can be enjoyed on any device that can play this common audio format.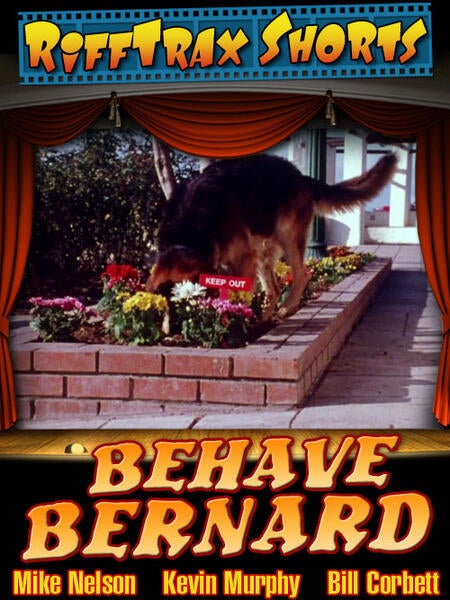 Riffed By