Beginning Responsibility: Taking Care of Things
Please choose a format above.
Our new short, Beginning Responsibility: Taking Care Of Things is NOT to be confused with our other short, Beginning Responsibility: Taking Care Of Your Own Things. That one was made in the 70s and was about a little boy named Reggie with an appalling talking pillow. This one was made in the 50s and is about a little boy named Andy with appalling dead tadpoles. Totally different!
Andy is a kid with a lot of problems. He drops a pencil in his elementary school classroom, and then has to sharpen the pencil in front of the whole class. Sharpening a pencil, so embarrassing, can you even imagine the shame? His teacher scolds him for being a "baby" and he becomes even less popular than he already was.
Trying to rehab his image, the friendless and broken-penciled boy convinces an older kid named Fred to come over and see his room. Fred is immediately and justifiably horrified when Andy shows him his TWO DEAD TADPOLES. That's right, two big brown globs of dead 'pole are just floating in Andy's fishbowl, where they'll stay for the rest of the short. Fred takes off, and Andy's mom teaches him how to be popular… by helping his sister reattach a doll's head. Thanks mom, it's starting to become clear why Andy is a loner.
Will responsibility ever begin? Coronet made about 30 films with that title so we're starting to wonder. Learn some important lessons about tadpole management and join Mike, Kevin and Bill for Beginning Responsibility: Taking Care of Things!
Written by Mike Nelson, Conor Lastowka, and Sean Thomason
Digital HD Video file formats
Legacy devices (42.56 MB)
High (TV) 480p (208.61 MB)
HD Medium 720p (211.04 MB)
All digital products you purchase from RiffTrax.com are DRM-free, can be played across a large variety of devices, and are yours to keep ... forever! Even if you have a hard drive meltdown, you can always log back into the site and re-download all of your previous purchases.
For our Download and Stream products, you can stream the product to your computer or to your TV via Chromecast, or download to a device that can play the MP4 file format. For more information on our video formats, please see this KB article.
Just the Jokes are simply MP3 files which are DRM free and can be enjoyed on any device that can play this common audio format.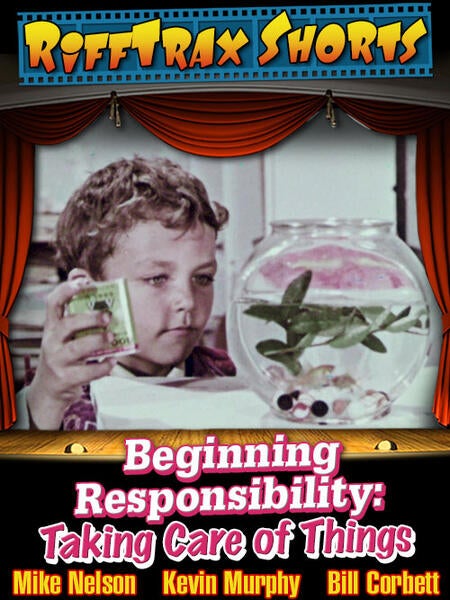 Riffed By