At Your Fingertips: Boxes
Please choose a format above.
Let's just be upfront: this is a sequel to the infamous Grasses short and you should buy it right away.
Yes, the mad geniuses at ACI films have recruited a new group of children to glance nervously at the authority figures standing off-camera as they're forced to make crafts out of common household garbage. This time, the waste product of choice is cardboard boxes. Yes, before Calvin and Hobbes turned a cardboard box into a transmogrifier, the children in this short were showing similar sparks of imagination by pretending to assemble crafts that were clearly made by adults when the camera wasn't rolling.
There are no fancy headresses in this short, but you will witness an entire city made of blocks, complete with corpses floating in a motel pool. Also, two youngsters live out every child's fantasy and use boxes to set up their own furniture moving business. And it wouldn't be an At Your Fingertips short without twisted creatures brought into existence through the power of rubber cement and undiagnosed psychosis.
At Your Fingertips: Boxes continues the proud tradition of its predecessor. Mike, Kevin and Bill can only look forward to At Your Fingertips: Pizza Savers.
Digital Video file formats
Legacy devices (41.38 MB)
Commentary (mp3) (6.98 MB)
Source audio (mp3) (8.94 MB)
All digital products you purchase from RiffTrax.com are DRM-free, can be played across a large variety of devices, and are yours to keep ... forever! Even if you have a hard drive meltdown, you can always log back into the site and re-download all of your previous purchases.
For our Download and Stream products, you can stream the product to your computer or to your TV via Chromecast, or download to a device that can play the MP4 file format. For more information on our video formats, please see this KB article.
Just the Jokes are simply MP3 files which are DRM free and can be enjoyed on any device that can play this common audio format.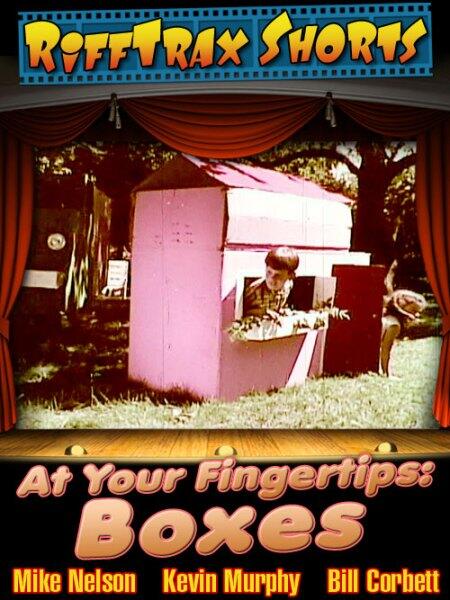 Riffed By