Appreciating Our Parents
Please choose a format above.
Spoiler alert: Appreciating Our Parents does not turn out to be a cookbook like in that classic Twilight Zone episode To Serve Man. That being said, it's still a pretty wild ride - a wild ride on the road to respecting authority, that is!
As you might guess, Appreciating Our Parents has a pretty heavy pro-parent bias. It focuses on Tommy, a little boy who apparently thinks his room just gets magically cleaned while he's away at school, and his meals delivered by angels, and his cowboy shirts mended by helpful gnomes. Oh yeah, the cowboy shirts - this kid Tommy goes through cowboy shirts like nobody's business. Westernwear stores struggle to keep up with his insane demand for cowboy shirts. And his poor sweet mother? Spends her days hunched over a sewing machine, forever mending the cowboy shirts he keeps finding new ways to destroy. Appreciate your parents and cool it with the cowboy shirts, Tommy!
So what are you waiting for, put on your best cowboy shirt and get to appreciating! Join Mike, Kevin and Bill for Appreciating Our Parents!
Written by: Mike Nelson, Conor Lastowka, and Sean Thomason
Digital HD Video file formats
Legacy devices (40.35 MB)
All digital products you purchase from RiffTrax.com are DRM-free, can be played across a large variety of devices, and are yours to keep ... forever! Even if you have a hard drive meltdown, you can always log back into the site and re-download all of your previous purchases.
For our Download and Stream products, you can stream the product to your computer or to your TV via Chromecast, or download to a device that can play the MP4 file format. For more information on our video formats, please see this KB article.
Just the Jokes are simply MP3 files which are DRM free and can be enjoyed on any device that can play this common audio format.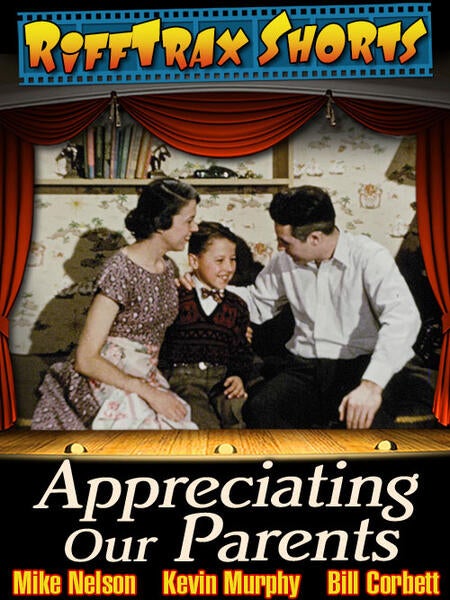 Riffed By