Alias St. Nick
Something you should know:
Previously free in our Cyber Monday 2020 Cyber Pack!
Please choose a format above.
Alias St. Nick is a vintage Christmas cartoon. It's from the golden age of animation, when all toys were required to come alive and just kind of bounce up and down, and all character voices sounded like a helium balloon that's very sick. This one belongs to the "Happy Harmonies" series, the forgotten loser in the war with Merry Melodies and Silly Symphonies.
Alias St. Nick is basically Itchy and Scratchy meets Home Alone. A hungry cat finds a tree full of little mouse children and decides to eat them. So he stuffs a balloon down his pants and pretends he's Santa to make his way inside for mousey murder. But the adorable mice see through his upsetting costume and put him through the ringer with a series of whimsical, deadly traps.
It's not the holidays without a little mouse and cat cartoon violence, throw on your creepiest Santa suit and join Mike, Kevin and Bill for Alias St. Nick!
Written by Mike Nelson, Conor Lastowka, and Sean Thomason
Digital Video file formats
Legacy devices (40.57 MB)
All digital products you purchase from RiffTrax.com are DRM-free, can be played across a large variety of devices, and are yours to keep ... forever! Even if you have a hard drive meltdown, you can always log back into the site and re-download all of your previous purchases.
For our Download and Stream products, you can stream the product to your computer or to your TV via Chromecast, or download to a device that can play the MP4 file format. For more information on our video formats, please see this KB article.
Just the Jokes are simply MP3 files which are DRM free and can be enjoyed on any device that can play this common audio format.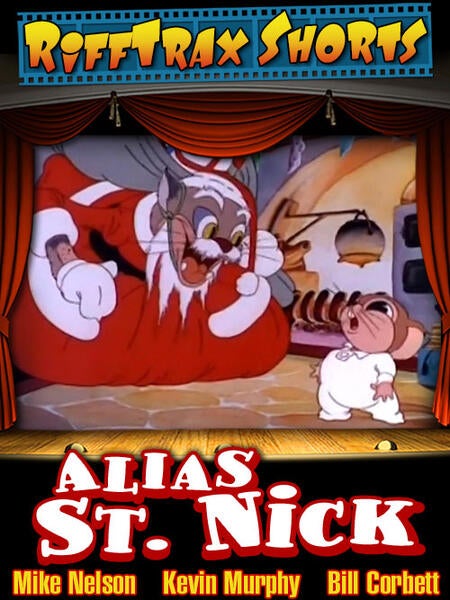 Riffed By