A Christmas Dream
Please choose a format above.
Santa Claus, famous fat Saint, is best known for his advances in forced deer flight and his work as a firm-but-fair elf foreman. But the man is even more gifted than his great big sack (*cough*), as we learn in the supernatural thriller Christmas Dream! Call him Professor X-mas, as his telepathic powers will awe and terrify you. (Did you call him Professor X-mas yet?  No?  Fine, whatever.)
One Christmas Eve, a foolhardy young girl discards a toy she is no longer interested in upon seeing her new, less-horrible toys. Never mind that the forgotten toy was little more than a hot dog with hair, this is a transgression that the patron saint of creepiness cannot forgive! While the girl slumbers peacefully, like the total selfish jerk that she is, St. Nick enters her dreams to give the monstrous doll life. It proceeds to torment her with its special brand of high-pitched Christmas horror. Will she learn her lesson and accept that change is always bad, or crack under the pressure and find herself in an asylum for children, gnawing on her own hair? Either way, this doll is gonna break a lot of her stuff!
Join Mike, Kevin, and Bill as they dance the mad carnival dance our dark lord Santa demands in Christmas Dream!         
Digital Video file formats
Legacy devices (37.06 MB)
All digital products you purchase from RiffTrax.com are DRM-free, can be played across a large variety of devices, and are yours to keep ... forever! Even if you have a hard drive meltdown, you can always log back into the site and re-download all of your previous purchases.
For our Download and Stream products, you can stream the product to your computer or to your TV via Chromecast, or download to a device that can play the MP4 file format. For more information on our video formats, please see this KB article.
Just the Jokes are simply MP3 files which are DRM free and can be enjoyed on any device that can play this common audio format.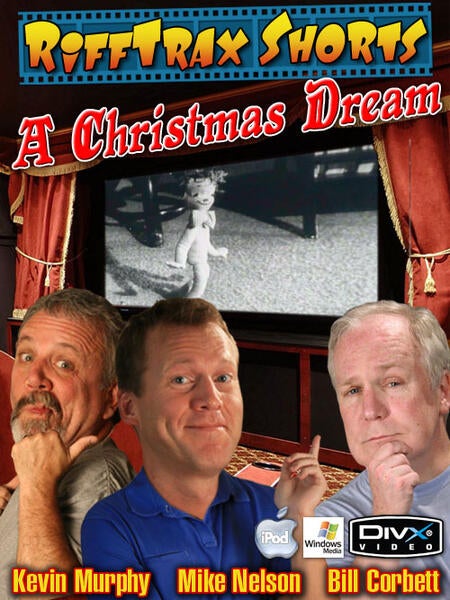 Riffed By