The Blessed Midnight
Please choose a format above.
Hooligan Teddy O'Hara shoplifts a cake from the local delicatessen to give to his beloved aunt for Christmas.
Aiding and abetting him is classmate Billy, who knows of Teddy's hard-knock life and pleads his pal's case to Sister Mary Benedict and Monsignor Thatoneguy. 
From the DuPont Theater's "Cavalcade of America" series from the 1950s, this short film doesn't pull any punches exposing the dark side of bakery larceny. Come for the cake - but stay for Francis Bavier in a rare non-Mayberry appearance! 
Written by: Bridget Nelson, Mary Jo Pehl, Matthew J. Elliott
Digital HD Video file formats
Legacy devices (115.73 MB)
All digital products you purchase from RiffTrax.com are DRM-free, can be played across a large variety of devices, and are yours to keep ... forever! Even if you have a hard drive meltdown, you can always log back into the site and re-download all of your previous purchases.
For our Download and Stream products, you can stream the product to your computer or to your TV via Chromecast, or download to a device that can play the MP4 file format. For more information on our video formats, please see this KB article.
Just the Jokes are simply MP3 files which are DRM free and can be enjoyed on any device that can play this common audio format.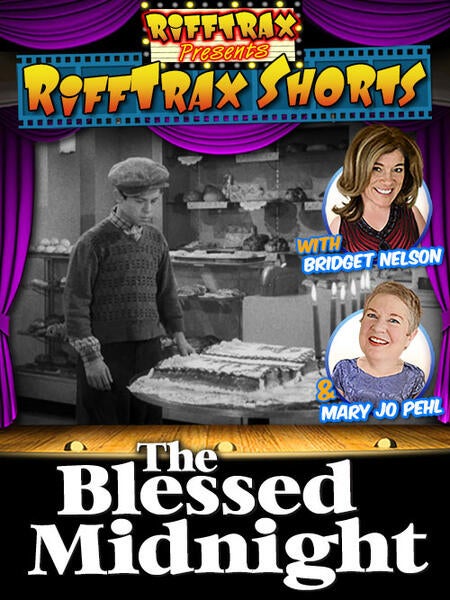 Riffed By