Meet Mrs. Swenson
Please choose a format above.
When a family moves to greener pastures, it's up to one housemaid to bring the American dream to a screeching halt.
Who is the mysterious Mrs. Swenson and why does she threaten to destroy a loving marriage and break up a happy family? All in the name of housework? There's no way to prepare yourself for the shocking twist ending of this short. 
Join Bridget and Mary Jo as they Meet Mrs. Swenson!
Written by: Bridget Nelson, Mary Jo Pehl, and Karyn VanderKooy
Digital Video file formats
Legacy devices (115.16 MB)
All digital products you purchase from RiffTrax.com are DRM-free, can be played across a large variety of devices, and are yours to keep ... forever! Even if you have a hard drive meltdown, you can always log back into the site and re-download all of your previous purchases.
For our Download and Stream products, you can stream the product to your computer or to your TV via Chromecast, or download to a device that can play the MP4 file format. For more information on our video formats, please see this KB article.
Just the Jokes are simply MP3 files which are DRM free and can be enjoyed on any device that can play this common audio format.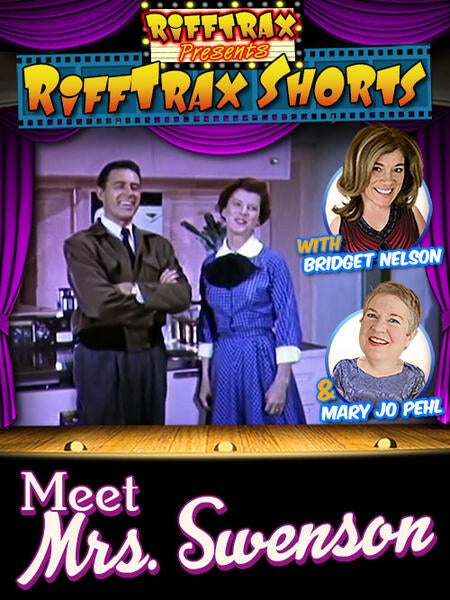 Riffed By