Hack-O-Lantern
Something you should know:
Rated TV-MA for violence, language, blood and gore, nudity, and fake severed goat heads.
Please choose a format above.
When it comes to horror movies from the 80s "Satanic panic" era, Hack-O-Lantern's got it all.
Hack-O-Lantern's got promiscuous teens. Hack-O-Lantern's got a hair metal band with dry ice and lasers. Hack-O-Lantern even has actual Satanists, including a Satanic grandpa who lectures his progeny about not being into Satan enough, saying folksy stuff like, "You're enough to try the patience of Satan!" The one thing Hack-O-Lantern doesn't have is an evil jack-o-lantern, or even an evil pumpkin, or any clear reason to be called Hack-O-Lantern at all. Still, catchy title!
The movie centers on a deeply creepy family, living on a farm in California with a spectacular view none of them seem to appreciate. There's the troubled teenage son (or grandson? or a little bit of both?) of the local neighborhood Satanic cult leader. There's his exhausted mother, who gives the mom from Carrie a run for her money. There's a nice sister, and a nice little brother who's a sheriff's deputy despite looking twelve years old. Put them all together at the world's strangest Halloween party - complete with a terrible, impromptu stand-up act - and you've got a goofy witch's brew with no pumpkin flavor whatsoever.
Get your most authentic plastic devil horns and join Mike and Bill for the horrors of Hack-O-Lantern!
Written by: Mike Nelson, Conor Lastowka, and Sean Thomason
Contributing writers: Jason Miller and Zach Shatzer 
P.S. Right-click and "Save" this link for a full-resolution JPG file you can print out at home to cut out your own Grandpa Evil doll!
Digital Video file formats
Legacy devices (319.08 MB)
Burnable DVD Image (3.85 GB)
Digital HD Video file formats
Legacy devices (319.08 MB)
Burnable SD DVD Image (3.85 GB)
All digital products you purchase from RiffTrax.com are DRM-free, can be played across a large variety of devices, and are yours to keep ... forever! Even if you have a hard drive meltdown, you can always log back into the site and re-download all of your previous purchases.
For our Download and Stream products, you can stream the product to your computer or to your TV via Chromecast, or download to a device that can play the MP4 file format. For more information on our video formats, please see this KB article.
Just the Jokes are simply MP3 files which are DRM free and can be enjoyed on any device that can play this common audio format.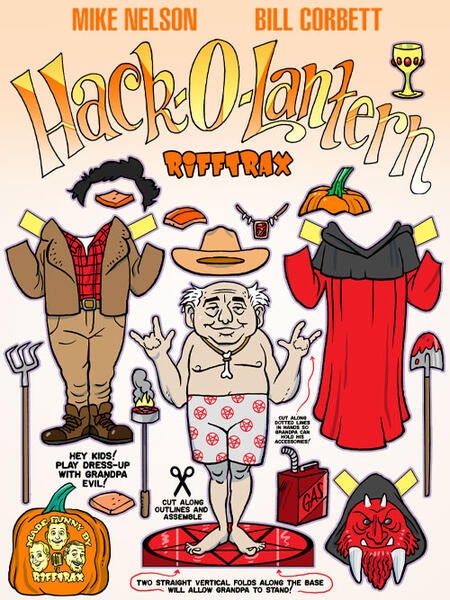 Poster art by Adam Koford. Click the link in the text for a high-resolution JPG you can print at home!
Love this poster art? Get it on a shirt!
Adult language
Graphic violence
Nudity
Riffed By