A Word to the Wives
Please choose a format above.
WORLD EXCLUSIVE
Riffing together again for the first second time in world history! Bridget Nelson and Mary Jo Pehl bring you... A WORD TO THE WIVES
Bridget and Mary Jo get a few pointers in this "how to" film from the 50s about getting a new kitchen.
Jane and her new dark-haired schemer neighbor without a name come up with a plan to trick Jane's husband into a brand-new kitchen, complete with new appliances so they can have more time to go shopping. In their panting greed for a new refrigerator that makes ice circles (we don't know what those are either) and with poor hapless Jane as a pawn in her neighbor's sinister plan, poor Husband George never knew what hit him. In a bloody, horrifying twist of events they get their new kitchen - and a little more than they bargained for. Tune in and see the new kitchen for yourself - if you dare!
Get Bridget and Mary Jo's first riffed short Life in the Suburbs here!
Digital Video file formats
Legacy devices (51.86 MB)
All digital products you purchase from RiffTrax.com are DRM-free, can be played across a large variety of devices, and are yours to keep ... forever! Even if you have a hard drive meltdown, you can always log back into the site and re-download all of your previous purchases.
For our Download and Stream products, you can stream the product to your computer or to your TV via Chromecast, or download to a device that can play the MP4 file format. For more information on our video formats, please see this KB article.
Just the Jokes are simply MP3 files which are DRM free and can be enjoyed on any device that can play this common audio format.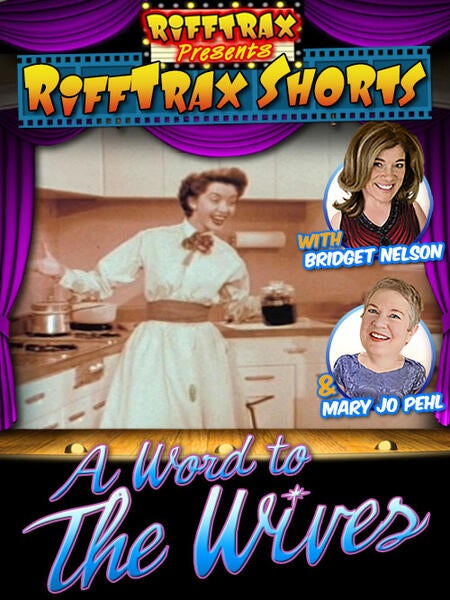 Riffed By