RiffTrax on Roku!
Please note: version 2.0 is the current supported version of the Roku app. Version 1.0 is no longer supported.
Click here for more info.
Get RiffTrax on your Roku device
To add the Roku channel to your device, search the Streaming Channels store for the name "RiffTrax" - OR, log into my.roku.com and add a channel with the code RIFFTRAX, and then Go to Settings > System > System Update and select "Check Now" to download the app.
NOTE: A RiffTrax.com account is required!
>> Existing subscribers, please read below to ensure continued Friends access.<<
In order to get the most out of the Roku channel, you'll need an account here on RiffTrax.com first.
Existing RiffTrax.com users: In the app, choose Sign In to login to the app using your RiffTrax user credentials. If you would like to subscribe to Friends to gain access to our subscription-only content, you can choose "Renew" in the Settings screen after Sign In.
NEW RiffTrax customers who are already Friends subscribers with Roku Pay, select the "Sign Up" option and then use the same email address as you use on Roku. (This will be the default information that gets filled in on that screen.) That way, we can easily locate your existing Roku subscription.
If you've logged in and the app still doesn't recognize an existing Friends subscription, you may need to create a Link between it and your RiffTrax account. Please use the form at the bottom of this page to enter your Roku email address that you subscribed with, and after submitting it, please refresh the Roku channel. Your Friends content should now be accessible! (If not, please contact us.
If you've forgotten your password, or used the Facebook login, please request a new one here.
Existing users who wish to become a Friends subscriber can subscribe directly in the app (in the Settings tab, click "Renew"), or on our Friends landing page using a credit card.
If you were a subscriber through our old Roku channel, and your Friends content is locked, please follow the steps above to either Sign Up or Sign In. Doing so will link your previous subscription to your RiffTrax.com account, allowing continued access to Friends riffs.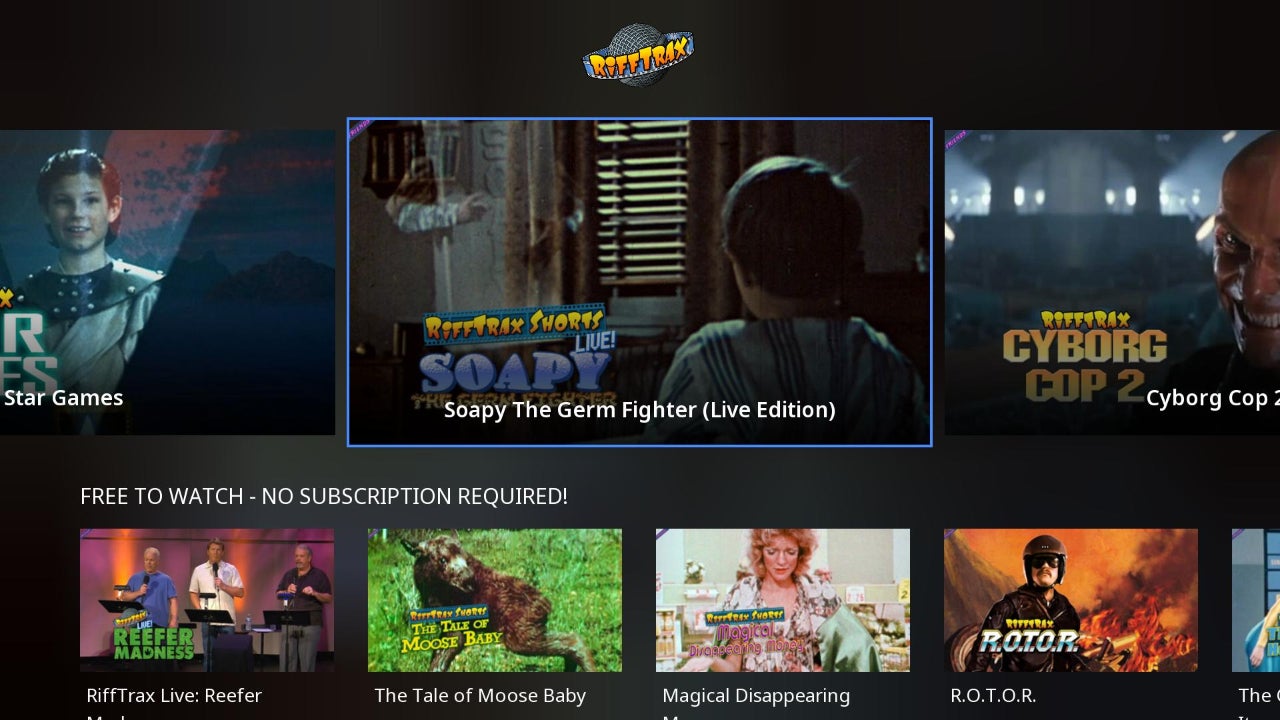 What does the app do?
When you first launch the app, you will see the Home screen with items that are locked. To unlock that content: you can of course purchase them on the site, OR become a "Friends of RiffTrax" subscriber for $5.99 per month. We hope to offer in-app purchasing in the future.
You can view your Library of Purchased RiffTrax Video titles in the My Library screen. Note that these videos will also appear unlocked throughout the app, but the app's Home screen currently gives Friends content priority, including showing HD versions of content that includes SD and HD resolutions. This will be fixed in a future update.
In My Library, the first row will always show the 10 most recent purchases. If you own DVD Shorts collections, or bundles of digital products (coming soon), they will appear underneath in their own rows: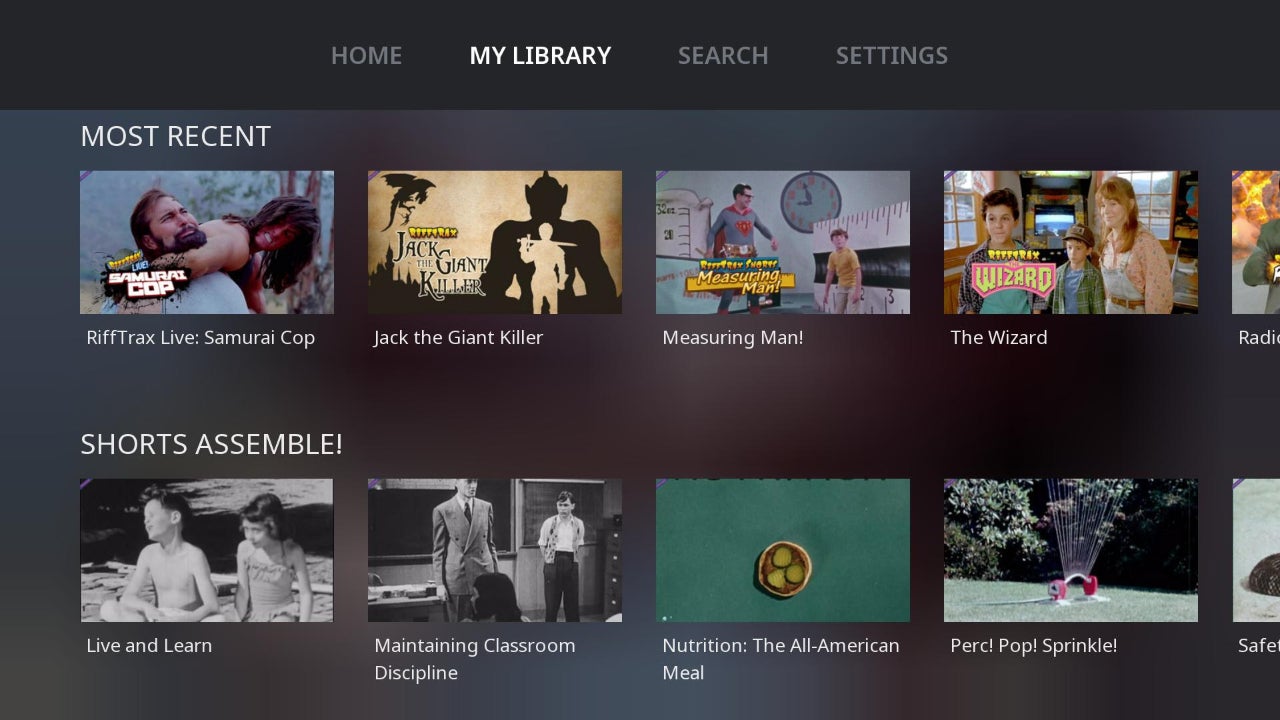 In the Search tab, you can search for individual titles or words. Note that partial word such doesn't quite work yet ("sam" does not return "Samurai Cop") but this is being fixed.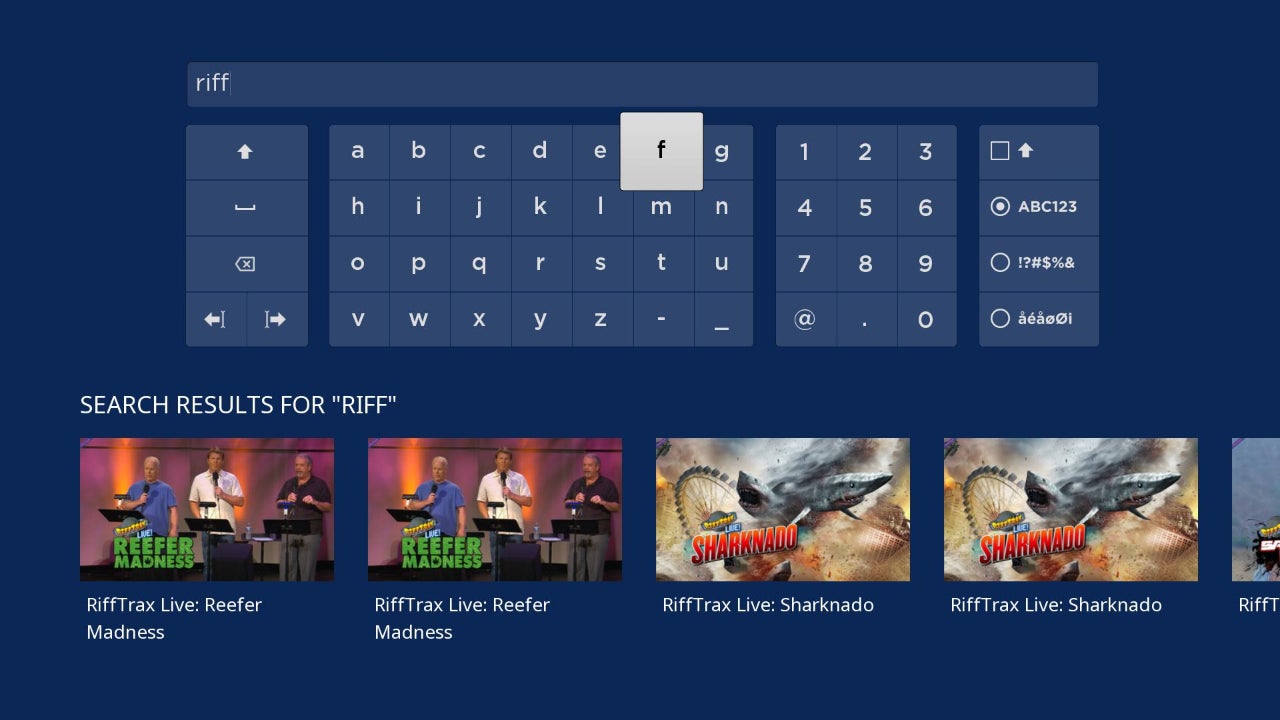 What is "Friends"?
Friends is a subscription package that unlocks hundreds of our shorts and features. As a subscriber to "Friends" for $5.99 per month you'll have access to a rotating selection of content, including many hours of riffing. The available titles are curated riffs from our back catalog from three years ago and older.
You do not need a subscription to use the Roku app; the "Friends" monthly subscription gives you access to hundreds of riffs for a low monthly fee. Click here for details.

How do I add new content to my Roku library?
Currently, all riffs must be purchased through the site. Once purchased, new riffs will be available immediately - but you will need to exit the My Library screen and view it again to see the updated content.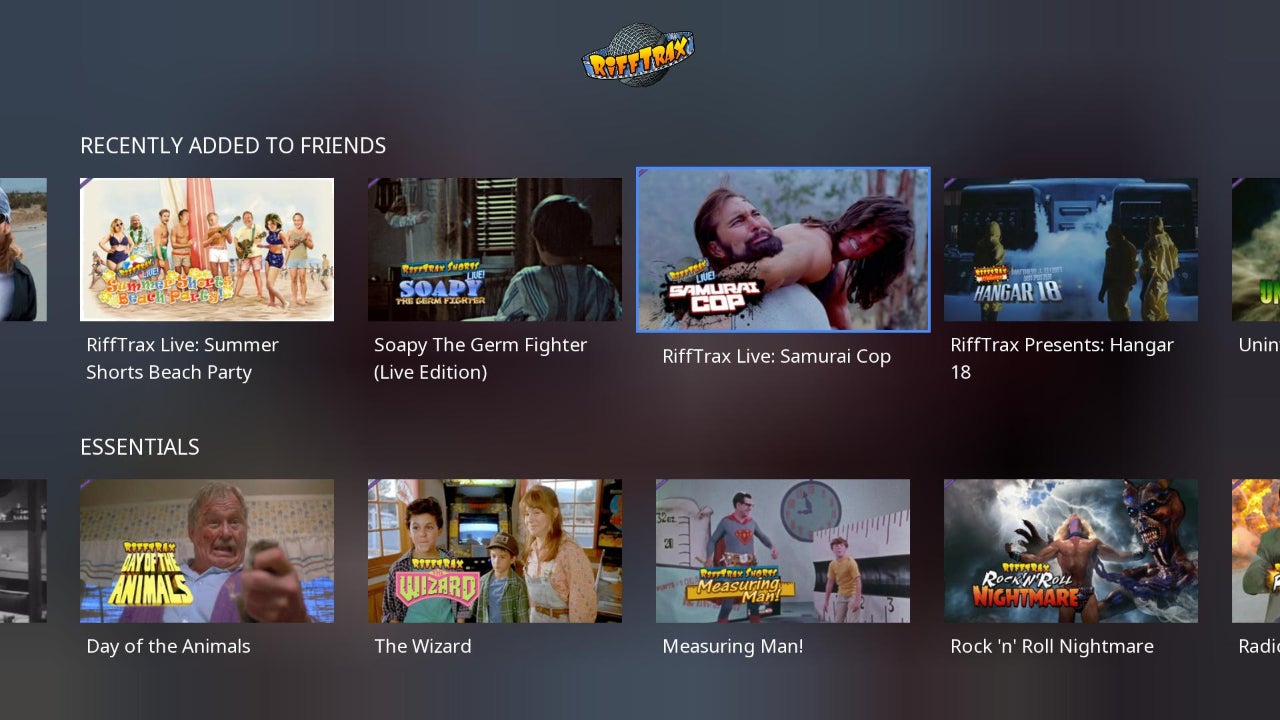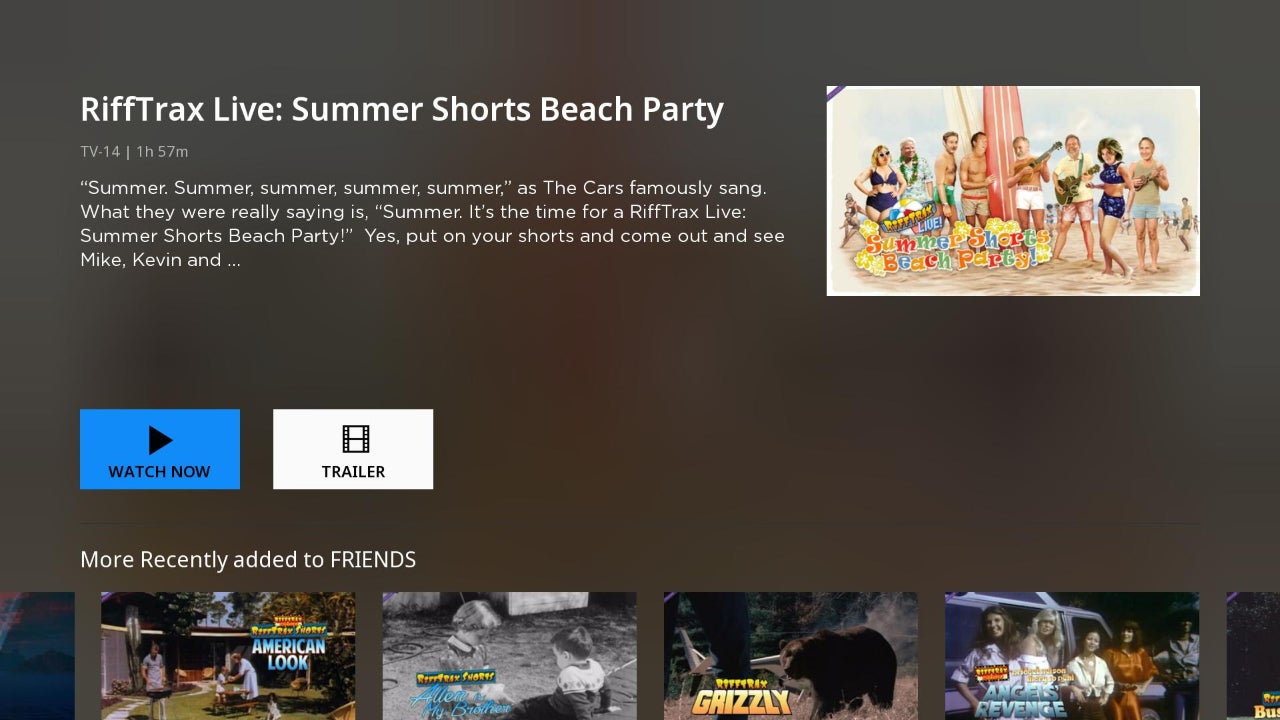 Known issues
My Library currently does not have options to Sort or Filter.
This is intentionally left our for this initial release of the App. We will be adding the ability to sort and filter your Library screen in a future version.
Search does not return partial word results.
Searching for "sam" does not return "Samurai Cop" when it should. This is currently being worked on.
Owned titles for which you have purchased the SD resolution, which also appear in the Home screen, may not be accessible there.
This is because the Home screen is intending to show "Friends" riffs, which may be the best (HD) version. We're working on this discrepancy and hope to have it resolved in a future update. 
Search results include duplicates of some titles
In order to address the fact that there are SD and HD versions of titles (see the issue directly above), both are returned in Search results to allow users to find the SD versions they own. We plan to unify these formats in a future update.
If you change your password on the site, the app will log you out.
This is a security feature to ensure that your app can only be used by you.
Riffs cannot be purchased within the app.
This feature is planned for a future version of the app.
New content does not automatically refresh.
To refresh your Library, exit the My Library tab and then visit it again.
If you were a user of our previous Roku app, there are some things that have changed!
A RiffTrax.com account is now required! This means, if you were previously a Friends subscriber, to continue viewing your subscription you will need to either Sign Into your existing RiffTrax.com account, or Sign Up for one.
My Library has moved to its own screen, and has multiple rows: the first is your 10 most recent items, and beneath that, content "bundles" such as Shorts DVD collections.
Huge User Interface update, including better performance of thumbnail images.
Subtitles/captions are supported where available!
Content ratings (TV-MA), and the movie duration is now included in the Content Details screen.
Previews of videos are also available - just select "Watch Trailer"
Search will now correctly show you the items you have access to! 
Coming soon to the Roku app!
We're hard at work making the new app even better. Here's what we have planned:
Watchlist integration!
Sort/Filter options in My Library
"Resume Watching" row on the Home screen
Better search results (partial word matching)
Better handling of purchases (SD vs. HD) throughout the app
.. and much more!
Having trouble? Send us a message.
Please visit our
contact form here
or email help@rifftrax.com if you are having trouble accessing the Roku channel or Friends content.
If you subscribed via Roku, but do not have access to Friends content, it's possible you need to "link" your subscription to your RiffTrax.com account. This can happen if you use a different email address on Roku than you use on the site, and the site doesn't know how to locate your Roku subscription.
To find your Roku account's email address, visit the Settings > System > About screen on your Roku device, and enter that email address into the form above.