MST3K: Untamed Youth
Get this MST3K Episode!
Please choose a format above.
It's the unbridled horror of 50's youngsters galavanting about in all their youthful glory!
Two sisters are apprehended for hitchhiking and skinny dipping (luckily not simultaneously). The punishment for such promiscuity? Thirty days hard labour down on the ol' cotton farm. Luckily for the sisters, the indentured servitude isn't nearly as despondent as the four musical numbers! Did we mention this is a drama? Good, because you'll need several reminders.
Oh, and Eddie Cochran plays a prisoner named Bong. Nothing really to it, but the preceding sentence is at least 75% more entertaining and action packed than the film itself.
Join Joel, Servo, and Crow as they get their curfews in order for the Untamed Youth!
Digital Video file formats
Legacy devices (399.63 MB)
Burnable DVD Image (3.92 GB)
All files you purchase from RiffTrax.com are DRM-free, can be played across a large variety of devices, and are yours to keep forever! Even if you have a hard drive meltdown, you can always log back into the site and re-download all of your previous purchases.
For our Download and Stream products, you can stream the product to your computer or to your TV via Chromecast, or download to a device that can play the MP4 file format. For more information on our video formats, please see this KB article.
Just the Jokes are simply MP3 files which are DRM free and can be enjoyed on any device that can play this common audio format.
Join us in the comments, won't us?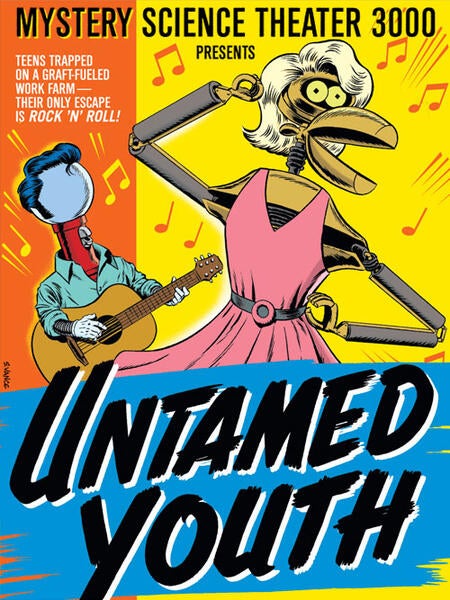 Release Date
December 4, 2017
Genre
In collection