MST3K: The Sword and the Dragon
Get this MST3K Episode!
Please choose a format above.
This movie has a real View-Master quality to it!
Our tale brings us to a medieval village which is a sampo short of hitting the big time. They've been under the scorn of the villainous Kallin, ever since their hero Invincor decided to retire for having such an embarrassingly rushed name translation. Luckily, there's a new hero, whose name was not translated, to take on the mantle.
Will he save his village? Will he defeat the dragon? Will the dragon be introduced ten minutes before the movie ends? Well, now would be a good time to tell you this film was edited by Roger Corman.
Join Mike, Servo and Crow as they whet their vorpal blades for The Sword and The Dragon!
Digital Video file formats
Legacy devices (378.68 MB)
Burnable DVD Image (4.34 GB)
All files you purchase from RiffTrax.com are DRM-free, can be played across a large variety of devices, and are yours to keep forever! Even if you have a hard drive meltdown, you can always log back into the site and re-download all of your previous purchases.
For our Download and Stream products, you can stream the product to your computer or to your TV via Chromecast, or download to a device that can play the MP4 file format. For more information on our video formats, please see this KB article.
Just the Jokes are simply MP3 files which are DRM free and can be enjoyed on any device that can play this common audio format.
Join us in the comments, won't us?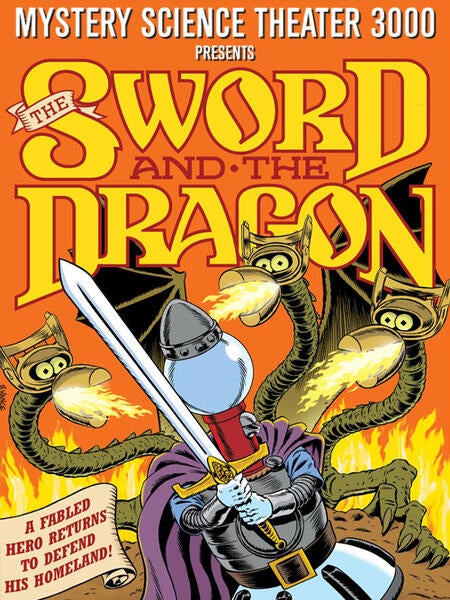 Release Date
September 11, 2017
In collection