MST3K: The Magic Voyage of Sinbad
Get this MST3K Episode!
Please choose a format above.
Sinbad, the legendary sailor, returns from his magical voyage around the world to his home town of Kovasahn. Wait, is this movie over before it even begins?
The citizens of Kovasahn have a major case of the renaissance blues, as they suffer under the cruel yoke of their merchant masters. Sinbad's answer to their troubles? Leave immediately! But not before catching a golden fish, holding wacky crew try-outs, falling in love, building a fleet, and lots and lots of cavorting—anything to limit the amount of sailing footage.
Hike up your chinderwear, travel to exotic lands, and join Joel and the 'bots to ask these ancient questions:
Will Sinbad find the Bird of Happiness? Is anything in this movie remotely Arabian? Who will win the SOL-tie Award for "Best Performance by a Red Gumball Machine-Looking Robot in a Funny Situation"? The answers may surprise you!
Searching for more Sinbad? Check out our riff of Son of Sinbad here!
Digital Video file formats
Legacy devices (381.68 MB)
Burnable DVD Image (3.99 GB)
All files you purchase from RiffTrax.com are DRM-free, can be played across a large variety of devices, and are yours to keep forever! Even if you have a hard drive meltdown, you can always log back into the site and re-download all of your previous purchases.
For our Download and Stream products, you can stream the product to your computer or to your TV via Chromecast, or download to a device that can play the MP4 file format. For more information on our video formats, please see this KB article.
Just the Jokes are simply MP3 files which are DRM free and can be enjoyed on any device that can play this common audio format.
Join us in the comments, won't us?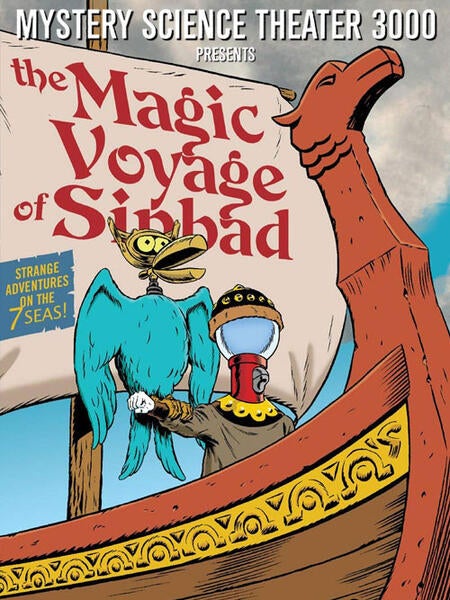 Release Date
August 5, 2019
Genre
In collection