MST3K: The Incredibly Strange Creatures Who Stopped Living and Became Mixed-Up Zombies
Get this MST3K Episode!
Please choose a format above.
If the movie had been called The Incredibly Strange Creatures confused audiences the world over would have taken to the streets with pitchforks and torches demanding to know the state of the creatures' mortality and what, if anything, happened to them in the end. Happily that nightmare scenario was averted by giving it the official title The Incredibly Strange Creatures Who Stopped Living and Became Mixed Up Zombies.
The "mixed-up" aspect of the film's title is handled by the plot: some unappealing idiots go to a carnival, are hypnotized by some lady, someone sings something, a guy named Ortega is there throwing acid in people's faces, and then zombies, maybe. It's unclear. Anyway, it's billed as the "World's First Monster Musical", though it should be noted that no monsters at anytime "mash".
Let Mike, Crow and Servo be your Incredibly Strange Guides Who Continue Talking While Watching This Film.
Digital Video file formats
Legacy devices (382.24 MB)
Download to Burn (3.95 GB)
All files you purchase from RiffTrax.com are DRM-free, can be played across a large variety of devices, and are yours to keep forever! Even if you have a hard drive meltdown, you can always log back into the site and re-download all of your previous purchases.
For our Download and Stream products, you can stream the product to your computer or to your TV via Chromecast, or download to a device that can play the MP4 file format. For more information on our video formats, please see this KB article.
Just the Jokes are simply MP3 files which are DRM free and can be enjoyed on any device that can play this common audio format.
Join us in the comments, won't us?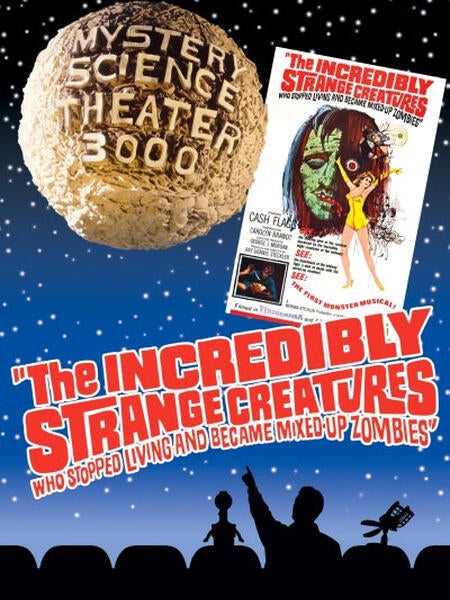 Release Date
August 15, 2016
In collection