MST3K: Star Force - Fugitive Alien 2
Get this MST3K Episode!
Please choose a format above.
They made a sequel - Ken you even believe it?
It's the long anticipated conclusion to the classic tale! Spoilers: no one tries to kill anyone with a forklift (no-lé!), but we don't need forklifts when temperatures just keep rising (olé)! What's making this movie overheat? It can't be all that sweet, narrated padding, but it just might be the THREE other plot lines they shoved into a seventy minute run time. You won't be surprised this movie actually made Tom Servo's globe EXPLODE.
Don't worry, the only thing killed in this movie is about forty minutes of screen time.
Join Joel, Servo and Crow as they blast off to Star Force: Fugitive Alien II!
Digital Video file formats
Legacy devices (398.99 MB)
Burnable DVD Image (3.92 GB)
All files you purchase from RiffTrax.com are DRM-free, can be played across a large variety of devices, and are yours to keep forever! Even if you have a hard drive meltdown, you can always log back into the site and re-download all of your previous purchases.
For our Download and Stream products, you can stream the product to your computer or to your TV via Chromecast, or download to a device that can play the MP4 file format. For more information on our video formats, please see this KB article.
Just the Jokes are simply MP3 files which are DRM free and can be enjoyed on any device that can play this common audio format.
Join us in the comments, won't us?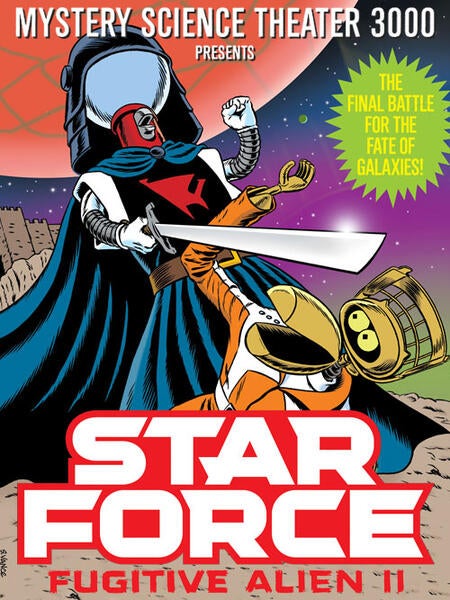 Release Date
July 31, 2017
Genre
In collection