MST3K: Samson vs. the Vampire Women
Get this MST3K Episode!
Please choose a format above.
Ya know what those classic Hammer vampire movies were missing? If you thought "masked luchador detective" then you're in for a treat! The Vampire Women (get ready with the Cher jokes!) have awoken after pulling an impressive Rip Van Winkle impression. Their queen needs to find her replacement so she can join her husband Lucifer - one of the few instances where "Go to hell" is actually the intention. 
Will the vampire women find their new queen? Will Lucifer and his wife finally settle down in Hell's hilly countryside? And will Samson the lucha-detective successfully defend his world title?
Find out with Mike, Servo and Crow as they get Transylvanian for Samson vs the Vampire Women!
Digital Video file formats
Legacy devices (377.12 MB)
Burnable DVD Image (4.34 GB)
All files you purchase from RiffTrax.com are DRM-free, can be played across a large variety of devices, and are yours to keep forever! Even if you have a hard drive meltdown, you can always log back into the site and re-download all of your previous purchases.
For our Download and Stream products, you can stream the product to your computer or to your TV via Chromecast, or download to a device that can play the MP4 file format. For more information on our video formats, please see this KB article.
Just the Jokes are simply MP3 files which are DRM free and can be enjoyed on any device that can play this common audio format.
Join us in the comments, won't us?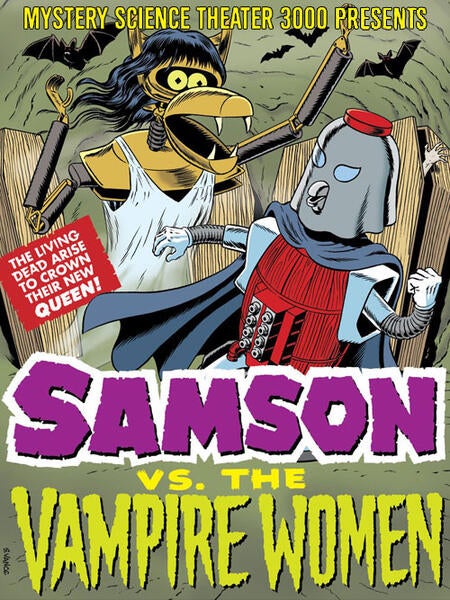 Release Date
April 24, 2017
In collection