MST3K: Manos: The Hands of Fate
Get this MST3K Episode!
Please choose a format above.
Manos: The Hands of Fate is a film where both too much and too little might best be said about it.
This is the film that brought us Torgo: a disheveled hermit whom you can positively smell through the screen. He is the caretaker of a slapdash house in El Paso. A very generic family opts to use it for shelter when their car breaks down at the behest of absolutely no one. It's a bold move considering the insurmountable Torgo infestation.
After some Scooby Doo-ish wandering around, they stumble upon The Master. He has the look of a creepy old man who runs a polygamous doomsday sex cult… probably because he's a creepy old man who runs a polygamous doomsday sex cult. Though I think we can all agree his robe adorned with red hands would be an absolute smash hit at the Met Gala.
There's some more plot to this feature, but honestly it's best left unexplored. Just sit back and watch the madness unfold in a film that's broken so many poor souls.
Join Joel, Servo, and Crow as they watch the place while the Master is away for Manos: The Hands of Fate!
Digital Video file formats
Legacy devices (385.15 MB)
Burnable DVD Image (4.22 GB)
All files you purchase from RiffTrax.com are DRM-free, can be played across a large variety of devices, and are yours to keep forever! Even if you have a hard drive meltdown, you can always log back into the site and re-download all of your previous purchases.
For our Download and Stream products, you can stream the product to your computer or to your TV via Chromecast, or download to a device that can play the MP4 file format. For more information on our video formats, please see this KB article.
Just the Jokes are simply MP3 files which are DRM free and can be enjoyed on any device that can play this common audio format.
Join us in the comments, won't us?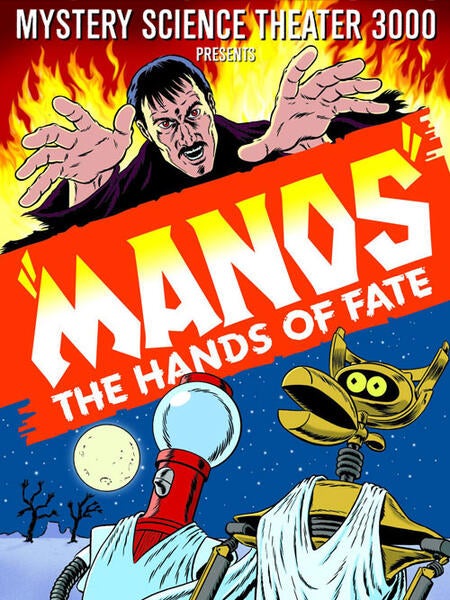 Release Date
January 6, 2020
Genre
In collection