MST3K: It Lives by Night
Get this MST3K Episode!
Please choose a format above.
Yearning for all the excitement of a guided cave tour in Omaha, Nebraska? Look no further than It Lives By Night!
Our hero is a bat researcher named Johnny, who is the most interesting protagonist of that name since The Room - and with only one-third the uncalled-for sex-scenes. When Johnny wanders off from his tour group, he is bitten by a bat. Which, in accordance with B-movie law, begins his transformation into the all powerful MANBAT. Eat your heart out, Bruce Wayne!
Johnny's wife, Mary Tyler Less, is very concerned about her husband's loss of appetite and aversion to drinking fluids, but most worrisome are his horrifyingly fuzzy hands which were somehow designed by effects guru Stan Winston. But that cannot stop Manbat! Who embarks upon a bloodlust of the "mostly-off-screen" variety. 
I think we can all agree; this movie would have been more interesting if he had been bitten by a cow.
Join Mike, Servo and Crow as they squeak their squeaks for It Lives By Night!
Digital Video file formats
Legacy devices (378.81 MB)
Burnable DVD Image (4.34 GB)
All files you purchase from RiffTrax.com are DRM-free, can be played across a large variety of devices, and are yours to keep forever! Even if you have a hard drive meltdown, you can always log back into the site and re-download all of your previous purchases.
For our Download and Stream products, you can stream the product to your computer or to your TV via Chromecast, or download to a device that can play the MP4 file format. For more information on our video formats, please see this KB article.
Just the Jokes are simply MP3 files which are DRM free and can be enjoyed on any device that can play this common audio format.
Join us in the comments, won't us?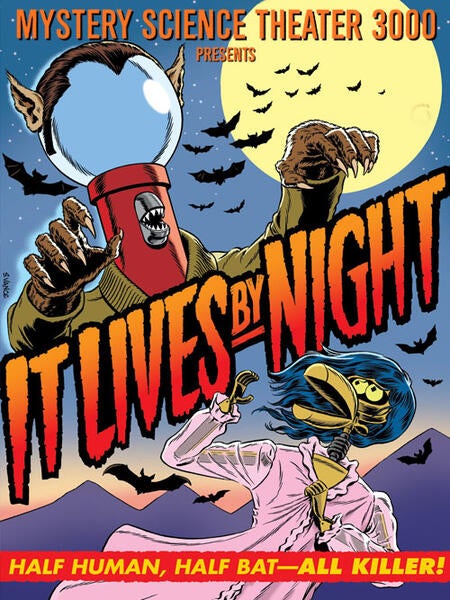 Release Date
July 1, 2019
In collection