MST3K: First Spaceship on Venus
Get this MST3K Episode!
Please choose a format above.
Three writing teams produced twelve different scripts and this was the one they went with!
Turns out the greatest scientific discovery of the last decade was actually just a spaceship from Venus. There's only one thing to do: launch an unsuspecting group of astronauts to the molten planet of course! All the charms of well meaning but poorly executed sci fi are here: incomprehensible yet annoying robots, an overly echoey narrator, a computer that looks suspiciously like a Slurpee Machine, and, most important of all, little-to-no science!
All this, plus the soothing of fierce gorillas, sarcasm adjustments, and festive holiday foods!
Join Joel, Servo, and Crow as they rev up the engines of the First Spaceship on Venus!
Digital Video file formats
Legacy devices (399.2 MB)
Burnable DVD Image (3.92 GB)
All files you purchase from RiffTrax.com are DRM-free, can be played across a large variety of devices, and are yours to keep forever! Even if you have a hard drive meltdown, you can always log back into the site and re-download all of your previous purchases.
For our Download and Stream products, you can stream the product to your computer or to your TV via Chromecast, or download to a device that can play the MP4 file format. For more information on our video formats, please see this KB article.
Just the Jokes are simply MP3 files which are DRM free and can be enjoyed on any device that can play this common audio format.
Join us in the comments, won't us?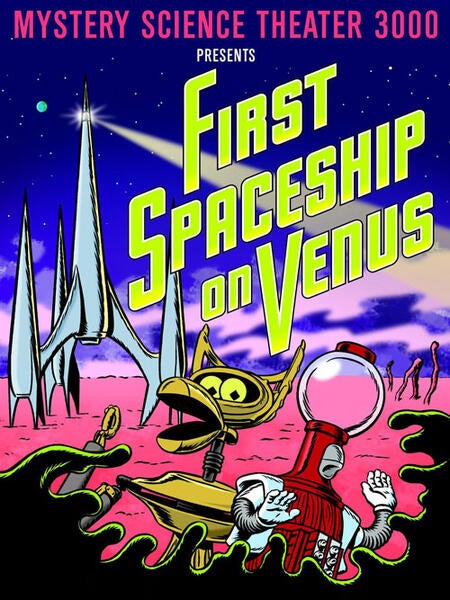 Release Date
December 4, 2017
Genre
In collection