MST3K: Devil Fish
Get this MST3K Episode!
Please choose a format above.
The very evil World Oceanic Institute has a sinister plan! And that plan seems to be 1) invent terrifying ocean monster to 2) protect the oceans from being exploited, and therefore 3) $ KA-CHING! $
Their dubious business model aside, the WOC does manage to produce a giant shark-octopus hybrid who kills anyone it encounters, leading three intrepid fake scientists to take to the seas and find out what's what. They discover the beast eventually, though with no help from the director, who never quite shows the Devil Fish itself. Tremble before moviedom's shyest giant murder-monster!
Devil Fish is an Italian-French co-production featuring, as it turns out, many Italian and French actors pretending to be Floridians in Florida. It has four alternative titles -- Shark rosso nell'oceano; Devouring Waves, Red Ocean; and Monster Shark -- in order to escape responsibility for this cinematic marine pollution.
Join Mike and the 'Bots for ocean-sized laughs as they riff this monster of a monster movie!
Digital Video file formats
Legacy devices (381.88 MB)
All files you purchase from RiffTrax.com are DRM-free, can be played across a large variety of devices, and are yours to keep forever! Even if you have a hard drive meltdown, you can always log back into the site and re-download all of your previous purchases.
For our Download and Stream products, you can stream the product to your computer or to your TV via Chromecast, or download to a device that can play the MP4 file format. For more information on our video formats, please see this KB article.
Just the Jokes are simply MP3 files which are DRM free and can be enjoyed on any device that can play this common audio format.
Join us in the comments, won't us?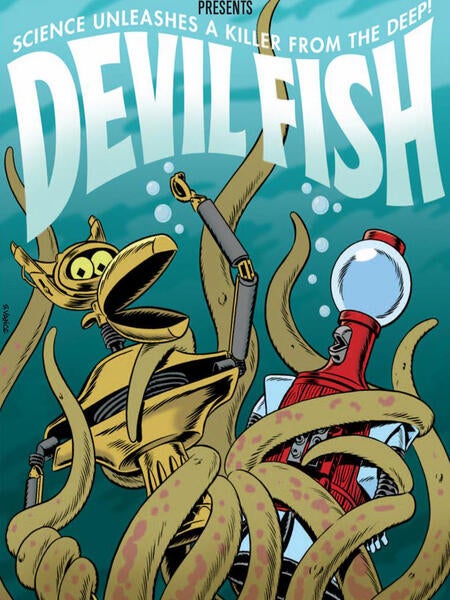 Release Date
February 8, 2016
In collection