MST3K: Boggy Creek 2
Get this MST3K Episode!
Please choose a format above.
Okay, which one of you asked the legend to continue? We're looking at you, Charles.
Boggy Creek 2 is actually the third film in the Boggy Creek film series, and the second Boggy Creek 2. Yes, the sequel so nice, they made it twice!
In a timeless Wiseau-esque move, writer, director, and producer Charles B. Pierce plays an anthropology professor who heads into the wilderness to search for a bigfoot type creature. Joining him are the crack team of his son (Charles B. Shirtless) and two co-eds. After failing to find the creature for themselves, they're directed to a barely-overalls-wearing yokel by the name of Old Man Crenshaw for assistance. Think The Beverly Hillbillies with less charm, and more midriff. Much. More.
Will they capture the creature? Will the legend ever continue? And, for the love of cats, will Old Man Crenshaw's last overall strap remain intact?
Find out today as Mike, Servo, and Crow take the anchors off their river raft for Boggy Creek 2: And The Legend Continues!
Digital Video file formats
Legacy devices (377.61 MB)
Burnable DVD Image (4.34 GB)
All files you purchase from RiffTrax.com are DRM-free, can be played across a large variety of devices, and are yours to keep forever! Even if you have a hard drive meltdown, you can always log back into the site and re-download all of your previous purchases.
For our Download and Stream products, you can stream the product to your computer or to your TV via Chromecast, or download to a device that can play the MP4 file format. For more information on our video formats, please see this KB article.
Just the Jokes are simply MP3 files which are DRM free and can be enjoyed on any device that can play this common audio format.
Join us in the comments, won't us?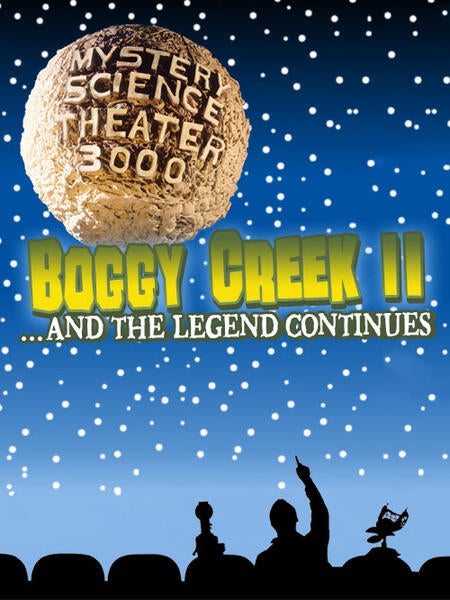 Release Date
February 5, 2018
In collection