MST3K: Alien from L.A.
Get this MST3K Episode!
Please choose a format above.
Alien From L.A. is just the sort of bastard child of The Goonies and Mad Max you'd expect from the makers of every single Death Wish movie.
Itinerant supermodel Kathy Ireland plays Wanda, an insufferably naive teenage girl with a voice so shrill you'll immediately understand why her mother jumped in front of a moving car. Wanda is sick of people abandoning her -- from her totally cool boyfriend to her father, who recently decided to jump into a bottomless pit.
It turns out her father held the secret of the long lost sunken city of Atlantis, which is not actually lost, sunken, nor a city, but a floating island in the sky! James Cameron would be so disappointed. Needless to say, she literally stumbles into Atlantis and shacks up with the first unconvincing Australian she meets in hopes of finding her father. Does she have any reason to believe her father is here? Should she trust a stranger who wantonly beats people with cast iron pans? Why do all the villains have ropey eyebrows?
The answer to these questions, and other disappointments await Mike, Servo and Crow as they abduct the Alien From L.A.!
Digital Video file formats
Legacy devices (387.12 MB)
Burnable DVD Image (4.34 GB)
All files you purchase from RiffTrax.com are DRM-free, can be played across a large variety of devices, and are yours to keep forever! Even if you have a hard drive meltdown, you can always log back into the site and re-download all of your previous purchases.
For our Download and Stream products, you can stream the product to your computer or to your TV via Chromecast, or download to a device that can play the MP4 file format. For more information on our video formats, please see this KB article.
Just the Jokes are simply MP3 files which are DRM free and can be enjoyed on any device that can play this common audio format.
Join us in the comments, won't us?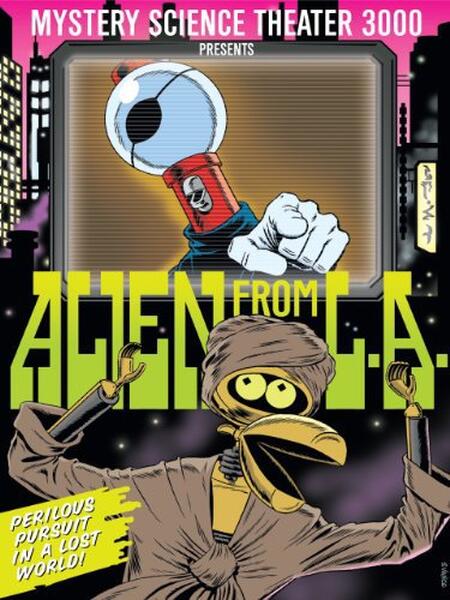 Release Date
January 16, 2017
Genre
In collection