McBain
Please choose a format above.
Let's get this out of the way: Yes, this movie is called McBain. No, it has nothing to do with what you're thinking: it's not a biopic of Diane McBain, star of the 1960 TV series Surfside 6. Oh, or that Simpsons character either.
No, there's no Mendoza for McBain to take out in this one. That's just in the silly movie series The Simpsons came up with. Probably only took them a couple minutes too. Mendoza...Ha! This McBain is much more legitimate and creative. Its drug dealer is named Escobar.
Christopher Walken (Mousehunt, Joe Dirt, The Country Bears, Gigli, Kangaroo Jack) stars as the titular McBain. When the man who rescued him from a POW camp is executed by a Colombian dictator, it's time for McBain to put together a ragtag group to avenge their friend. He rounds up a smooth talking technology expert, a black guy who is afraid of flying, and a guy who repeatedly asks him if it's really a good idea to rip off The A-Team so blatantly.
Finally, they're ready to take out the dictator and what follows is possibly the most incoherent mess of an action film there ever was. The body count soars, plot threads are introduced and discarded at a moment's notice and a WrestleMania hat is given prominent screentime. Evidently, nobody ever told the producers of McBain that 80s action flicks were out of style, or that it's not very badass to make your supposed action hero a welder (McBain is a professional welder, we forgot to mention that until now. Also, his first name is Bobby. Both of these things are true.)
McBain is the movie that will have you saying, "Seriously? Christopher Walken did this only three years before Pulp Fiction?" Join Mike, Kevin, Bill and Rainier Wolfcastle for McBain: Let's Get Silly.
Something you should know:
Contains naughty language and Christopher Walken impressions!
Digital Video file formats
Download to Burn (3.92 GB)
High-quality (MPEG-2) (3.88 GB)
mp4 for mobile devices (621.74 MB)
mp4 for Tablets and TVs (1.63 GB)
All digital products you purchase from RiffTrax.com are DRM-free, can be played across a large variety of devices, and are yours to keep ... forever! Even if you have a hard drive meltdown, you can always log back into the site and re-download all of your previous purchases.
For our Download and Stream products, you can stream the product to your computer or to your TV via Chromecast, or download to a device that can play the MP4 file format. For more information on our video formats, please see this KB article.
Just the Jokes are simply MP3 files which are DRM free and can be enjoyed on any device that can play this common audio format.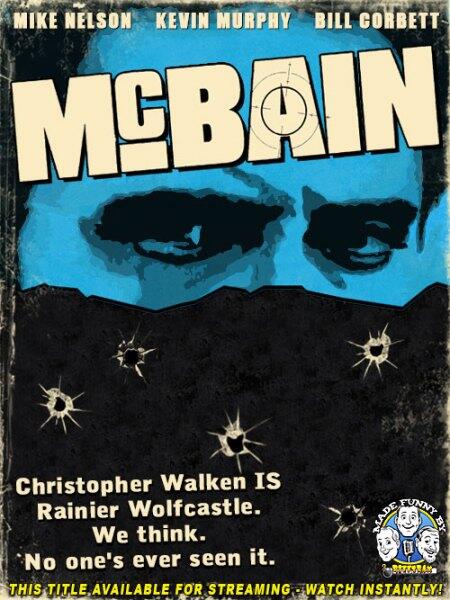 Adult language
Graphic violence
Profanity
Riffed By