You And Your Family
Please choose a format above.
You and Your Family. Much like gunpowder and an open flame, combining the two is not recommended (especially if mom's been drinking.) But every now and then a scenario arises where you must remove your iPod's ear buds, emit a contemptuous, full-bodied sigh and actually interact with your family.* You and Your Family is the must-have guide to how to handle these situations with a minimum involvement of municipal services.
Each scenario in You and Your Family plays out in several different ways, and you the viewer are left to decide which would be the most effective course of action. It's like a "Choose Your Own Adventure" book, except that instead of reading about The Lost Jewels of Nabooti**, you decide whether to help mom with the dishes. Imagine Rashomon with slightly more Room-Storming-Off-To, and you've got You and Your Family.
Riffers Mike, Kevin and Bill each assume the "You" in You and Your Family is referring to one of the other two guys.
*These situations include holidays, birthdays and everybody pretending that you're taking grandpa to the Baseball Hall of Fame when you're really dropping him off at a home.
**Actual "Choose Your Own Adventure" book title
Digital Video file formats
Legacy devices (29.08 MB)
All digital products you purchase from RiffTrax.com are DRM-free, can be played across a large variety of devices, and are yours to keep ... forever! Even if you have a hard drive meltdown, you can always log back into the site and re-download all of your previous purchases.
For our Download and Stream products, you can stream the product to your computer or to your TV via Chromecast, or download to a device that can play the MP4 file format. For more information on our video formats, please see this KB article.
Just the Jokes are simply MP3 files which are DRM free and can be enjoyed on any device that can play this common audio format.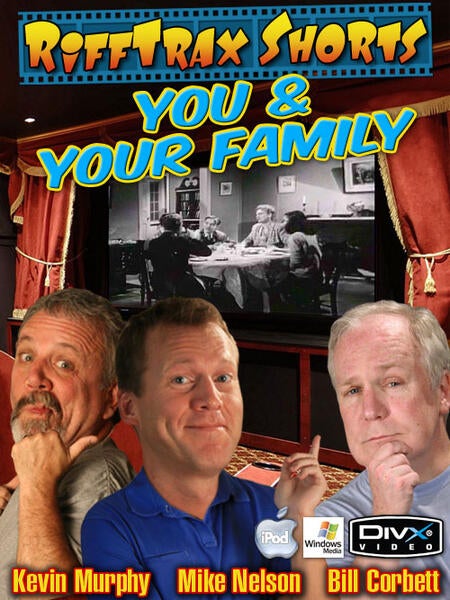 Riffed By