When You Grow Up
Please choose a format above.
When You Grow Up is a deeply 70s look at what becoming an adult and having a job might look like for kids in the 70s, from the 70s. Did we mention the 70s?
This short is about what happens when the kids from At Your Fingertips: Grasses have to put away childish things, take off their headdresses made of weeds, and face the harsh realities of joining the workforce. From factory work, to paperwork, to construction work, then back to factory work, the world is your oyster, kids!
When You Grow Up might sound ominous and grim, but at least it isn't If You Grow Up. Plan your future and what kind of sideburns you should grow with Mike, Kevin and Bill! 
Written by: Mike Nelson, Conor Lastowka, Sean Thomason, Jason Miller, and Zachary Shatzer
Digital HD Video file formats
Legacy devices (45.62 MB)
All digital products you purchase from RiffTrax.com are DRM-free, can be played across a large variety of devices, and are yours to keep ... forever! Even if you have a hard drive meltdown, you can always log back into the site and re-download all of your previous purchases.
For our Download and Stream products, you can stream the product to your computer or to your TV via Chromecast, or download to a device that can play the MP4 file format. For more information on our video formats, please see this KB article.
Just the Jokes are simply MP3 files which are DRM free and can be enjoyed on any device that can play this common audio format.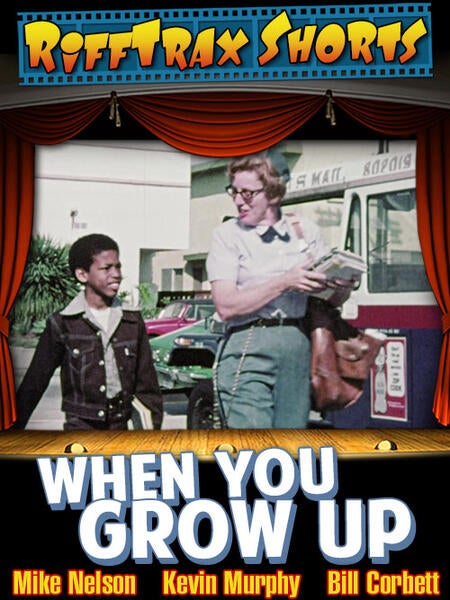 Riffed By