When Should Grown-ups Stop Fights?
Please choose a format above.
This short may just save you a lot of trouble! No longer will you have to be forcibly removed from the Expecting Parents Class at the local hospital for shouting "When should grown-ups stop fights?" at the top of your lungs during the segment on diaper changing. Frankly, it was unacceptable that the so-called "class" did not touch on this issue. "Time is of the essence!" we told them. "One of them has the other one pinned down with a crowbar across the throat!" we told them. "Wait, is that a taser?" we asked them.
Yes, this short would have saved us a lot of trouble. In the 21st century, the answer to the question When Should Grown-Ups Stop Fights? sadly seems cut-and-dried. Grown-ups should stop fights before they start, or at the very least, when the child you wagered on is clearly going to lose. But in the 1930s, 40s, or possibly 1820s when this short was produced, the answer was a much more ambiguous: Wait, stop fights? Where's the fun in that?
Presented in this short are four separate fights that occur on a preschool playground that also seems to double as a Russian work camp/garbage heap. This precocious little tykes hurl sand, steal from each other, and gang up on scapegoats with no intervention from their teachers whatsoever. Presumably the adults are all inside watching a terrible short instructing them how to stop fights.
Join Mike, Kevin, and Bill as they work off their gambling debts (Still can't believe that first grader tapped out to the four year old!) as they team up to riff When Should Grown-Ups Stop Fights?
 
Digital Video file formats
DVD Video (MPEG-2) (570.71 MB)
mp4 for mobile devices (112.77 MB)
mp4 for Tablets and TVs (162.83 MB)
All digital products you purchase from RiffTrax.com are DRM-free, can be played across a large variety of devices, and are yours to keep ... forever! Even if you have a hard drive meltdown, you can always log back into the site and re-download all of your previous purchases.
For our Download and Stream products, you can stream the product to your computer or to your TV via Chromecast, or download to a device that can play the MP4 file format. For more information on our video formats, please see this KB article.
Just the Jokes are simply MP3 files which are DRM free and can be enjoyed on any device that can play this common audio format.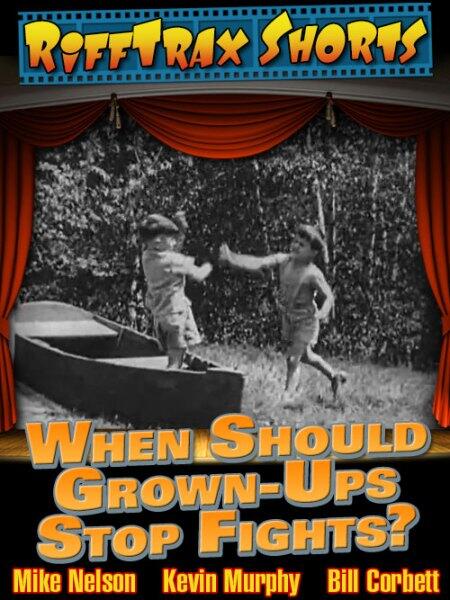 Riffed By