Toothache of the Clown
Something you should know:
FREE to our 2022 Kickstarter backers at the SHORTS COLLECTION level and above!
Please choose a format above.
Encyclopedia Britannica wants you to know: clowns get toothaches, too! 
Scared of the dentist? Well, a hideous CLOWN should take care of that! Turns out the "this" in "Now I've got this to worry about" was gingivitis. There are two redeeming things about this short: 1) Nobody carves their initials into a young boy's fingernail, and 2) The clown does appear to be in quite a bit of pain.
Join Mike, Kevin, and Bill as they apply a soothing salve to a Toothache of the Clown!
 
Digital HD Video file formats
Legacy devices (35.94 MB)
High (TV) 480p (163.3 MB)
HD Medium 720p (164.36 MB)
HD High 1080p (931.99 MB)
All digital products you purchase from RiffTrax.com are DRM-free, can be played across a large variety of devices, and are yours to keep ... forever! Even if you have a hard drive meltdown, you can always log back into the site and re-download all of your previous purchases.
For our Download and Stream products, you can stream the product to your computer or to your TV via Chromecast, or download to a device that can play the MP4 file format. For more information on our video formats, please see this KB article.
Just the Jokes are simply MP3 files which are DRM free and can be enjoyed on any device that can play this common audio format.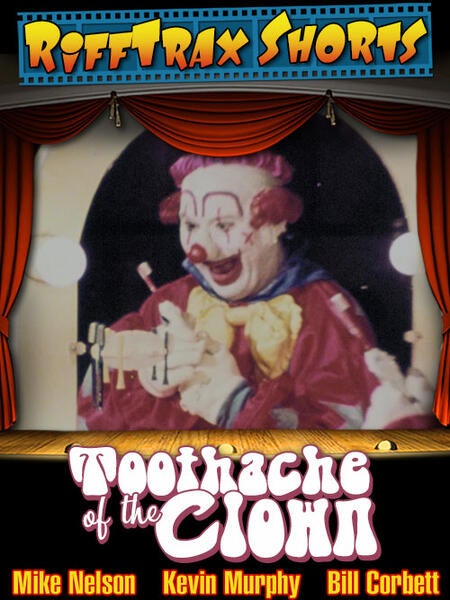 Riffed By