Toes Tell / Whose Shoes?
Please choose a format above.
This combo of two shorts about feet, produced by the Encyclopedia Britannica, will have you saying "I wish the Internet had killed encyclopedias sooner!"
It's psychedelic, it's aimless, and it's all about FEET, FEET, FEET! Just kidding, that's not all it's about, there are also some shoes. Does it teach valuable health lessons about caring for your feet? No, it doesn't even try! Does it teach about the various types of footwear used in different careers? No, keep dreaming!
Feet at the park, feet in the dirt, combat boots stomping across the playground, they're all part of the dark carnival that is Toes Tell / Whose Shoes?. This duo of shorts is honestly one of the weirdest, most inexplicable relics we've stumbled across (with our feet), and it's the perfect blank canvas for Mike, Kevin and Bill to walk all over (with their feet!).
Written by: Mike Nelson, Conor Lastowka, Sean Thomason
Digital HD Video file formats
All digital products you purchase from RiffTrax.com are DRM-free, can be played across a large variety of devices, and are yours to keep ... forever! Even if you have a hard drive meltdown, you can always log back into the site and re-download all of your previous purchases.
For our Download and Stream products, you can stream the product to your computer or to your TV via Chromecast, or download to a device that can play the MP4 file format. For more information on our video formats, please see this KB article.
Just the Jokes are simply MP3 files which are DRM free and can be enjoyed on any device that can play this common audio format.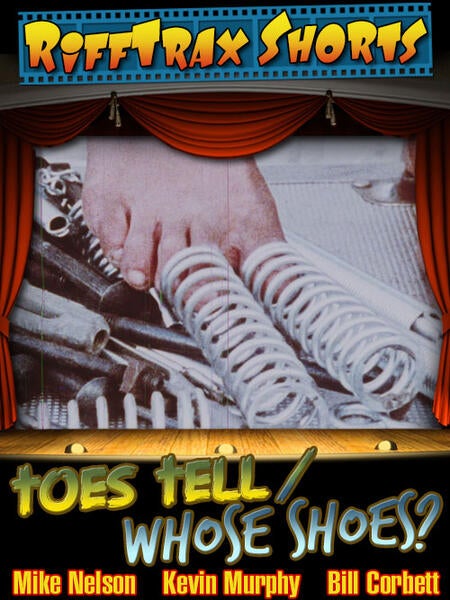 Riffed By