Three Magic Words
Please choose a format above.
Have you ever been on the Disneyland ride, "It's a Small World After All"?  Wait, where are you going!  Come back!  This short isn't about that ride.  It contains no references to that ride.  I'm sorry, I shouldn't have brought it up so abruptly.  Here, breathe into this paper bag.  Stop muttering to yourself, it'll be alright. 
 
But seriously, the song from "It's a Small World After All" is going through your head now, isn't it?  Well Three Magic Words features a song that is twice as catchy!  What keeps it from making you want to rip the Hammer, Anvil and/or Stirrup out of your ears using needlenose pliers?  It's about Pork! 
 
Yes, Pork, the delicious substance we've been known to indulge in every now and then here at RiffTrax.  And since we buy it using the titular Three Magic Words, we'll always know we've got the best pork.  What are the Three Magic Words?  Quality, freshness and flavor!  How do we remember these?  Because they are repeated approximately 837 times during this ten minute short! 
 
Join Mike, Kevin and Bill as they are serenaded about the joys of quality, fresh, flavorful pork.  Over...and over...and over again...
Buy the shirt inspired by Three Magic Words, "Quality, Freshness and Flavor" by Len Peralta!
Digital Video file formats
All digital products you purchase from RiffTrax.com are DRM-free, can be played across a large variety of devices, and are yours to keep ... forever! Even if you have a hard drive meltdown, you can always log back into the site and re-download all of your previous purchases.
For our Download and Stream products, you can stream the product to your computer or to your TV via Chromecast, or download to a device that can play the MP4 file format. For more information on our video formats, please see this KB article.
Just the Jokes are simply MP3 files which are DRM free and can be enjoyed on any device that can play this common audio format.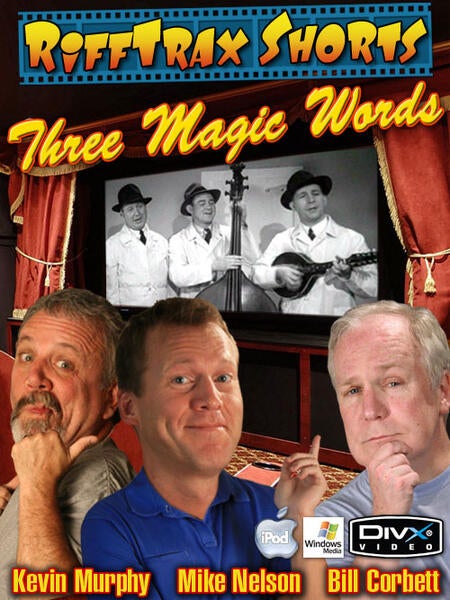 Riffed By