The Room
Please choose a format above.
In 2015 we kicked off The Crappening by riffing The Room live! Due to a certain cast member who will remain nameless (OK, it's the guy who says "Lisa looks hot tonight" during Johnny's birthday party) we're unable to release that live show on our site. But this studio MP3 of the live show is the next best thing!
Consider it a "Special Edition" MP3. Tons of all new jokes, fully riffed sex scenes, and Denny even shoots first! Just borrow a laugh track from Fuller House and you'll feel like you're watching it live!
Alley football, underwears, breast cancer, doggy, barbecue chicken rice, framed spoons: The Room has contributed so much to our culture, way more than suckers like Van Gogh or Thomas Pynchon. It is one of our all time favorite bad movies and this MP3 version is the definitive riffing! Join Mike, Kevin, and Bill-R for this studio MP3 of our The Room live show! Do it quickly, before Mark moves to a bigger place - word on the street is he's making some pretty good money these days.
Just the Jokes file formats
MP3 Audio (NTSC) (79.88 MB)
MP3 Audio (PAL) (87.55 MB)
All digital products you purchase from RiffTrax.com are DRM-free, can be played across a large variety of devices, and are yours to keep ... forever! Even if you have a hard drive meltdown, you can always log back into the site and re-download all of your previous purchases.
For our Download and Stream products, you can stream the product to your computer or to your TV via Chromecast, or download to a device that can play the MP4 file format. For more information on our video formats, please see this KB article.
Just the Jokes are simply MP3 files which are DRM free and can be enjoyed on any device that can play this common audio format.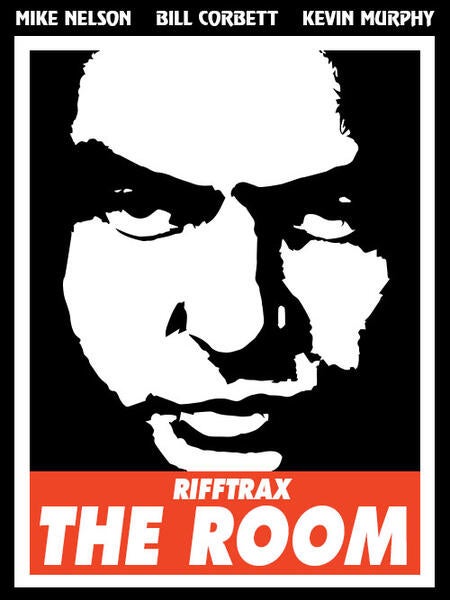 Get the movie for the riff:
Nudity
Profanity
Sexual content
Riffed By