The Return
Something you should know:
Contains some gory shots of dead animal "victims"
Please choose a format above.
When a boy and a girl spot strange lights in the sky, nobody could predict that thirty years later they'd reunite and fall in love, because that is very stupid.
But then again we're talking about Greydon Clark, who gave us the movie where a cat barfs out a slightly more evil cat, so maybe we should have been expecting it.
Yes, long before Joe Don Baker wolfed down a triple cheeseburger on the set of Final Justice Clark decided to tackle a different form of cattle mutilation. This time it's caused by aliens, or rather their human puppet, played by Vincent Schiavelli (presumably because he looks more like an alien than any FX Greydon could have come up with.) Standing in his way are Cybill Shepherd, whose expression of bored indifference is perhaps the only relatable thing in the movie, and Jan-Michael Vincent and his three first names.
Rounding out (ha!) the cast is Raymond Burr as well as Martin Landau, whose Oscar is now as legitimate as an Astros World Series trophy. Fortunately, they are not joined by either of Clark's sons from Star Games. Please join Mike, Kevin, and Bill for The Return!
Written by: Mike Nelson, Conor Lastowka and Sean Thomason
Contributing writers: Jason Miller and Zachary Shatzer
Digital Video file formats
Legacy devices (324.82 MB)
Burnable DVD Image (3.98 GB)
Digital HD Video file formats
Legacy devices (324.82 MB)
Burnable DVD Image (3.98 GB)
All digital products you purchase from RiffTrax.com are DRM-free, can be played across a large variety of devices, and are yours to keep ... forever! Even if you have a hard drive meltdown, you can always log back into the site and re-download all of your previous purchases.
For our Download and Stream products, you can stream the product to your computer or to your TV via Chromecast, or download to a device that can play the MP4 file format. For more information on our video formats, please see this KB article.
Just the Jokes are simply MP3 files which are DRM free and can be enjoyed on any device that can play this common audio format.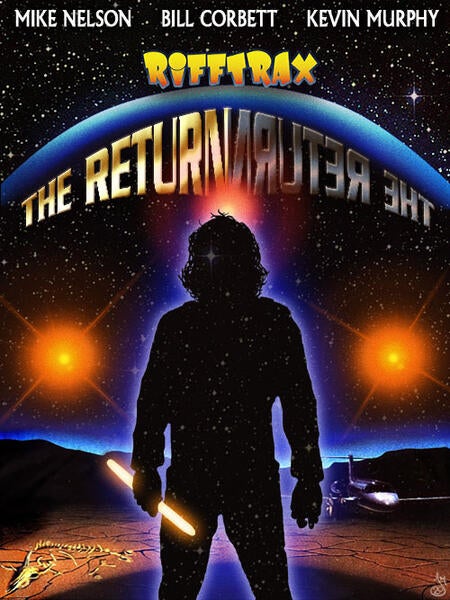 Graphic violence
Profanity
Riffed By