The Night Before Christmas
Please choose a format above.
It's the sunniest Night Before Christmas yet. Not a creature is stirring, not even the stuffed, mummified mouse that's lovingly stapled to the floor. Sugarplums dance in the heads of children, causing the children to wonder, what's a sugarplum, and why would it dance so suggestively? At the heart of it all is a man with one simple goal—a long winter's nap, uninterrupted by any sort of clatter. Boy is he in for a surprise! 
Hold on to your stocking cap  (or, as we know them today, sleeping hat) and prepare for a holiday home invasion the likes of which you've never seen. Unwantable toys will be given, boys will wear dresses, and the reindeer will test all limits of tiny-ness! It's a story as fresh and timeless as that 4th of July egg salad you've been meaning to take out of the trunk. So check out The Night Before Christmas now, before Disney adapts this half-page poem into a 4-hour epic next year.
Digital Video file formats
High Quality (MPEG-2) (253.44 MB)
Source Audios (mp3) (11.41 MB)
All digital products you purchase from RiffTrax.com are DRM-free, can be played across a large variety of devices, and are yours to keep ... forever! Even if you have a hard drive meltdown, you can always log back into the site and re-download all of your previous purchases.
For our Download and Stream products, you can stream the product to your computer or to your TV via Chromecast, or download to a device that can play the MP4 file format. For more information on our video formats, please see this KB article.
Just the Jokes are simply MP3 files which are DRM free and can be enjoyed on any device that can play this common audio format.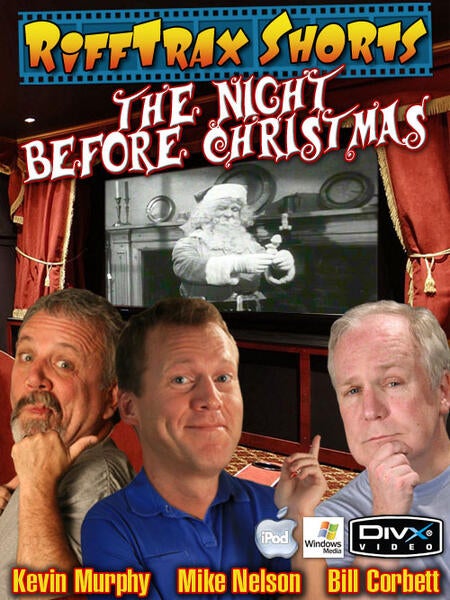 Riffed By