The Myths of Shoplifting
Please choose a format above.
Shoplifting! Before they invented bittorrent, the five fingered discount was all the rage with the teens (second only to the storied AARP discount.) But there were lots of "myths" about shoplifting. That it was a "victimless crime." That you "won't go to jail." That if you "shoplift a Gorgon's head, Pegasus will leap out of it."
The Myths of Shoplifting is here to clear up all of these misconceptions. It does this using the controversial "all dork cast" method that was so popular in the seventies. Watch as they attempt to steal makeup, records, and a pocket calculator! Even more impressive is that they are attempting all of these thefts in a Sunglass Hut, which to the best of our knowledge does not sell any of those things. We believe it sells sunglasses.
Of course, this short was not very effective, since all the cool kids were already cutting class to shoplift stuff.
Join Mike, Kevin, and Bill for The Myths of Shoplifting!
Digital Video file formats
Legacy devices (68.23 MB)
All digital products you purchase from RiffTrax.com are DRM-free, can be played across a large variety of devices, and are yours to keep ... forever! Even if you have a hard drive meltdown, you can always log back into the site and re-download all of your previous purchases.
For our Download and Stream products, you can stream the product to your computer or to your TV via Chromecast, or download to a device that can play the MP4 file format. For more information on our video formats, please see this KB article.
Just the Jokes are simply MP3 files which are DRM free and can be enjoyed on any device that can play this common audio format.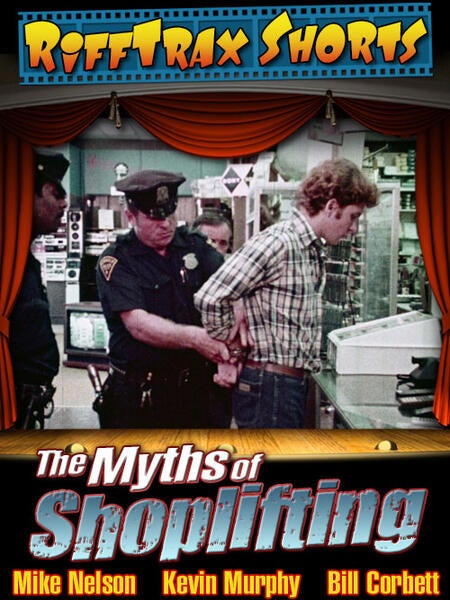 Riffed By