The Christmas Tree
Please choose a format above.
You might assume a short called The Christmas Tree is another slice of 1950s Coronet Americana, with little kids dreaming of Santa and eating festive gelatin salads. Understandable, but dead wrong. The Christmas Tree is an Eastern European folk tale, filled with all the dread, hunger and frostbite those seem to entail. Did you see Father Frost? Yeah, it's like that.
One snowy Christmas Eve in a remote cabin in Ukraine, a family prepares for a big dinner of… well, mostly raisins? The boy's only joy is looking forward to decorating the tree in the yard his father promised years ago would be theirs for Christmas. How sweet! Then, his father sells the tree to a rich man who passes by. How sad! Then, to make up for it, the father makes his son… carry the tree on a sled to the rich man's house on a freezing winter night. How… cruel, and perhaps punishable if reported to the appropriate authorities?
Wolves howl, and a mysterious stranger approaches. Will the boy survive? If he does, will he finally get his greatest wish of… looking at a tree and eating some raisins? There's only one way to find out: brace yourself and join Mike, Kevin and Bill for the raw holiday joy of The Christmas Tree!
Written by: Mike Nelson, Conor Lastowka, and Sean Thomason
Contributing writer: Zach Shatzer
Digital HD Video file formats
Legacy devices (68.97 MB)
High (TV) 480p (312.24 MB)
HD Medium 720p (313.62 MB)
All digital products you purchase from RiffTrax.com are DRM-free, can be played across a large variety of devices, and are yours to keep ... forever! Even if you have a hard drive meltdown, you can always log back into the site and re-download all of your previous purchases.
For our Download and Stream products, you can stream the product to your computer or to your TV via Chromecast, or download to a device that can play the MP4 file format. For more information on our video formats, please see this KB article.
Just the Jokes are simply MP3 files which are DRM free and can be enjoyed on any device that can play this common audio format.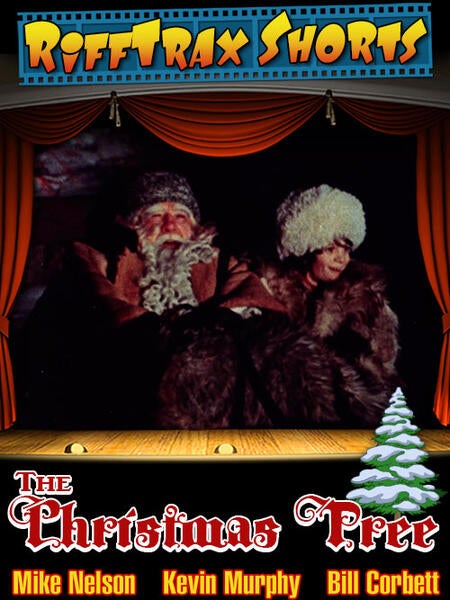 Riffed By