The Being On Time Game
Please choose a format above.
Alfred Higgins Productions famously struck gold with their "demand for obedience masked as fun" short The Following Instructions Game. Flush with confidence and literally tens of dollars in money, the AHP crew tried to replicate their success with a pair of new "game" shorts: The Doing Your Own Laundry Game, followed by The Turning All the Matchsticks in the Box So They Face the Same Direction Game. They even took a shot at board games with Chutes & Don't Ask Daddy So Many Damned Questions When He's Watching the Aerobics Channel.
These projects were met with utter indifference from the public, and the company would have gone under if not for bankrolling from Alfred Higgins' infamous "pygmy milk bootlegging" fortune. But the light of success finally shone again with the release of The Being On Time Game! Fans were enraptured by the brilliant casting of a child who stunned with her Eleanor Roosevelt good looks. Even Mr. Mac was sprung from prison and convinced to resume his "creepy rhyming workshop freak" role. The critics raved, calling it "Definitely something that was filmed!"
Join Mike, Kevin, and Bill for an unforgettable round of The Being On Time Game! Don't be late or you'll lose bonus points and harvest eleven counter-demerit units (it's a very complicated game).
Digital Video file formats
High Quality (MPEG-2) (306.42 MB)
Commentary (mp3) (10.27 MB)
Source audio (mp3) (9.88 MB)
All digital products you purchase from RiffTrax.com are DRM-free, can be played across a large variety of devices, and are yours to keep ... forever! Even if you have a hard drive meltdown, you can always log back into the site and re-download all of your previous purchases.
For our Download and Stream products, you can stream the product to your computer or to your TV via Chromecast, or download to a device that can play the MP4 file format. For more information on our video formats, please see this KB article.
Just the Jokes are simply MP3 files which are DRM free and can be enjoyed on any device that can play this common audio format.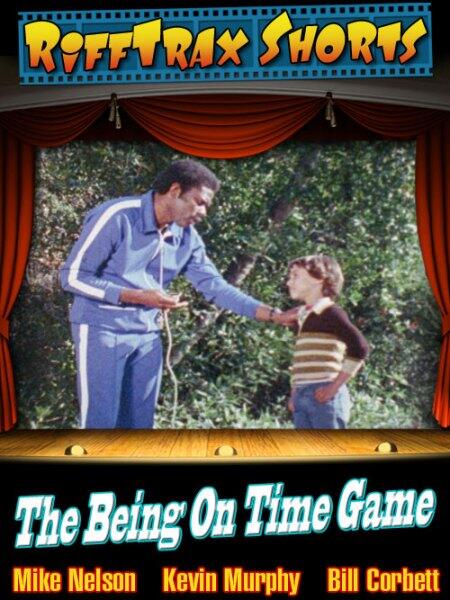 Riffed By