Teenagers on Trial
Please choose a format above.
Someone has to be on trial. It may as well be teenagers. And they deserve it, too, what with their shenanigans, the hell-raking, their common thuggery, rough manners and unkempt flat-top haircuts. I don't think it would be overstating things to say that teenagers are the largest threat facing this great nation, causing more destruction than the boll weevil and potato weevils combined! Teenagers on Trial does not shrink from showing us the hard truth, which is that your average teenager would knock you off your bike and take it just as soon as look at you. (That is, if he wasn't currently at his Model United Nations meeting.) Thankfully they get what's coming to them, and that's a darn good trial!
Kevin, Mike, and Bill, two of them former teenagers, give the teenagers a stern, but sympathetic hearing-out in the thrilling new short Teenagers on Trial!
Digital Video file formats
High Quality (MPEG-2) (252.48 MB)
All digital products you purchase from RiffTrax.com are DRM-free, can be played across a large variety of devices, and are yours to keep ... forever! Even if you have a hard drive meltdown, you can always log back into the site and re-download all of your previous purchases.
For our Download and Stream products, you can stream the product to your computer or to your TV via Chromecast, or download to a device that can play the MP4 file format. For more information on our video formats, please see this KB article.
Just the Jokes are simply MP3 files which are DRM free and can be enjoyed on any device that can play this common audio format.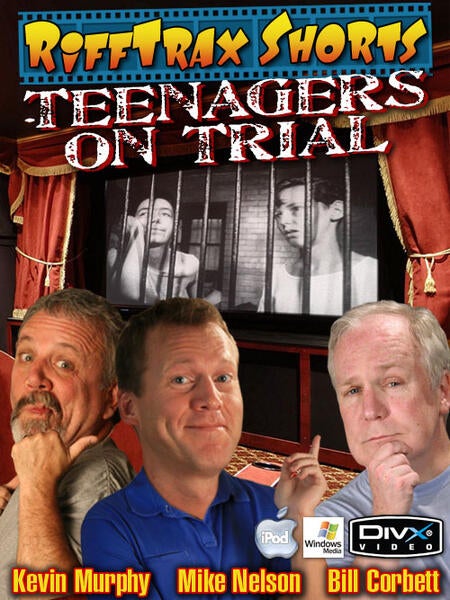 Riffed By